Accommodation Specials!





The Port Douglas and Rainforest Escape is perfect for couples. From Australia's finest beachfront oasis to rare Rainforest wilderness your six night getaway will be a magnificent tropical experience.
7 Night Luxury Package
* 4 nights Sheraton Mirage
* 3 nights Silky Oaks Lodge
* Full Breakfast Daily
* River canoes & mountain bikes


save $1664


Stay between now and 31/March/2019





Luxury Eco Nature Escape includes 3 nights of absolute luxury in a Treehouse at Silky Oaks Lodge and a day under the warm tropical skies exploring beautiful coral gardens on the Quicksilver Outer Barrier Reef.
RAINFOREST & REEF
3 NIGHTS SILKY OAKS LODGE
*FULL BREAKFAST DAILY
*QUICKSILVER OUTER REEF
*SEMI SUBMARINE
*GLASS BOTTOM BOAT



3 NIGHT PACKAGE
SAVE $386

Stay between now and 31/March/2019





Wait-a-While is a stunning, secluded pole framed timber house in the heart of the Daintree Rainforest
Sleeps up to 9 people
*3 BEDROOM HOLIDAY HOUSE
*SELF CONTAINED
*STUNNING POLE HOUSE
*500 SQUARE METRES
*INTERNET

DAINTREE HOLIDAY HOUSE
SAVE UP TO $780

*Pet friendly
Stay between now and 31/March/2019





6 NIGHT BACKPACKER CIRCUIT Non-stop thrills on the reef and rainforest, this popular package is fantastic fun and a budget saver! Canoe in jungle crater lakes, snorkel the reef and spot turtles...
- 1 night Cape Tribulation
- Mossman Gorge
- Daintree River Cruise
- Evolution Outer Reef
- Swim in Waterfalls
- 1 night Yungaburra
- Canoe & Mountain bike
- 4 nights Gilligans, Cairns

Based on Dorm Share
Stay between now and 31/March/2019
Viewing 1 to 3 of 3 properties
Page 1
Ferntree Hostel

Budget Backpacker Accommodation
Dorms or Private Cabins
All air-conditioned
Popularity

Service

Value

Overall

Based on 8 ratings
Ferntree Hostel: offers a mix of accommodation with private and dorm share cabins each with their own private balcony, ensuite bathroom, mini-fridges, security locks and air-conditioning surrounded by lush Daintree rainforest
...
more info
Daintree Crocodylus

Eco safari cabins set within Rainforest
Immerse yourself in the rainforest
Abundant wildlife | Safari huts
Popularity

Service

Value

Overall

Based on 22 ratings
Daintree Crocodylus
is a truly unique resort where families, couples or singles can experience the jungle up close and personal. A true ECO adventureland set right under the rainforest canopy. All accommodation is safari tent style......
more info
Cape Trib Beach House

The ONLY Beachfront accom. in Cape Trib
Beach cabins & share rooms
Rainforest Pool, Bar & Bistro
Popularity

Service

Value

Overall

Based on 46 ratings
Cape Trib Beach House
is located right where the rainforest meets the reef. It makes the perfect base to explore the wonders of reef and rainforest. Here you will find a variety of accommodation options including Rainforest dorm rooms with 5 single beds through to private cabins and family rooms. ...
more info
Viewing 1 to 3 of 3 properties
Page 1
Budget

The Daintree Rainforest is the perfect escape if you're looking for eco friendly accommodation that won't break the budget. Visiting the Daintree is all about the rainforest experience. Simple, timber cabin style accommodation immersed in the rainforest adds to the overall experience, bringing you that bit closer to nature.
Simplicity in the Rainforest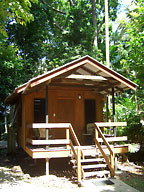 Rainforest life in the Daintree is very different to urban living. There is no grid-connected electrical power north of the Daintree River, so households and businesses need to make their own. A high level of rainfall and humidity combined with the means of self sufficient power, and protected ecology, impels that good building design is a must. Budget rainforest holiday accommodation is spread out along the Daintree Coast tucked away in pockets of rainforest. Comprising of simple timber cabins and safari tents, rainforest accommodation is designed to have the least impact on the surrounding environment, and to give you that true wilderness experience. Comfortable living in the Daintree relies on making use of natural air flow and light; raised floor construction allows less impact on wildlife, whilst high ceilings and air vents allow heat to rise and escape. Wide verandahs extend the living space to allow for 'open living' all year round, and insect protection ensures local critters are kept out, for a more relaxed stay! Most Daintree holiday accommodation implements a myriad of energy-saving features into their system, to minimise their environmental impact.
Accommodation

With the environment in mind, Crocodylus tent huts have been delicately built off the ground and spaced out amongst the dense tropical rainforest. These wooden and canvas bungalows are built safari tent style, with canvas walls and high ceilings to catch the natural breezes. Being immersed in the rainforest Crocodylus guarantees a close and personal rainforest experience, where you can spot wildlife right from your bedroom window or verandah.
Crocodylus is perfect for single budget travellers, couples, families and groups of friends with accommodation styles to suit all. Dining is your choice whereby you can purchase homemade meals from the Kingfisher Cafe - open for breakfast & dinner daily, or self cater. The self catering kitchen has everything you need to prepare all your own meals - crockery, cutlery, pots, pans, fridges, gas cooker, BBQ and lots more.
Cape Trib Beach House is the only budget beachfront accommodation in Cape Tribulation, comprising of timber cabins that are scattered throughout rainforest clearings. There are a range of cabin styles suitable for backpackers, couples and families, all featuring the luxury of air conditioning, overhead fans and are fully screened. Among the many facilities at the Cape Tribulation Beach House, you will also find a cafe bar & bistro, self catering kitchen, guest laundry, an internet cafe, pool table, games and activities. You can wonder through the resort and directly down onto Cape Trib Beach. This rugged deserted beach is good for exploring the fringing reefs.
Holiday accommodation and activities are well spread out between the Daintree River and Cape Trib Beach, so hiring a vehicle will allow you the flexibility to explore this magnificent region at your own leisurely pace. Most conveniences are available at Cape Tribulation. There are two small supermarkets, a bottleshop, cafe, restaurant, ATM, Interpretive Centre and small cinema all within walking distance. If you are choosing to self cater then it is best to stock up on all your provisions in Mossman township.
Find out more:
Crocodylus - budget accommodation situated at Cow Bay
Cape Trib Beach House - budget cabins situated at Cape Trib Beach
Whats Hot!
Travel Tools
Whats Hot!