Home >
Rainforest Resorts
Accommodation Specials!





The Port Douglas and Rainforest Escape is perfect for couples. From Australia's finest beachfront oasis to rare Rainforest wilderness your six night getaway will be a magnificent tropical experience.
7 Night Luxury Package
* 4 nights Sheraton Mirage
* 3 nights Silky Oaks Lodge
* Full Breakfast Daily
* River canoes & mountain bikes


save $1664


Stay between now and 31/March/2019





Luxury Eco Nature Escape includes 3 nights of absolute luxury in a Treehouse at Silky Oaks Lodge and a day under the warm tropical skies exploring beautiful coral gardens on the Quicksilver Outer Barrier Reef.
RAINFOREST & REEF
3 NIGHTS SILKY OAKS LODGE
*FULL BREAKFAST DAILY
*QUICKSILVER OUTER REEF
*SEMI SUBMARINE
*GLASS BOTTOM BOAT



3 NIGHT PACKAGE
SAVE $386

Stay between now and 31/March/2019





Wait-a-While is a stunning, secluded pole framed timber house in the heart of the Daintree Rainforest
Sleeps up to 9 people
*3 BEDROOM HOLIDAY HOUSE
*SELF CONTAINED
*STUNNING POLE HOUSE
*500 SQUARE METRES
*INTERNET

DAINTREE HOLIDAY HOUSE
SAVE UP TO $780

*Pet friendly
Stay between now and 31/March/2019





6 NIGHT BACKPACKER CIRCUIT Non-stop thrills on the reef and rainforest, this popular package is fantastic fun and a budget saver! Canoe in jungle crater lakes, snorkel the reef and spot turtles...
- 1 night Cape Tribulation
- Mossman Gorge
- Daintree River Cruise
- Evolution Outer Reef
- Swim in Waterfalls
- 1 night Yungaburra
- Canoe & Mountain bike
- 4 nights Gilligans, Cairns

Based on Dorm Share
Stay between now and 31/March/2019
Viewing 1 to 6 of 6 properties
Page 1
Silky Oaks Premier Luxury Lodge

Superb Unique Rainforest Resort
Breakfast Daily | Iconic Spa
Tennis Court | Canoes | Bikes
Popularity

Service

Value

Overall

Based on 90 ratings
Silky Oaks Lodge & Healing Waters Spa, nestled on the edge of the World Heritage-listed Daintree National Park, only 20 minutes from Port Douglas. Experience the soothing sights and sounds of the rainforest in absolute luxury...more info

Ferntree Rainforest Lodge

Budget Resort set within tropical gardens
Continental breakfast daily
Ideal for families
Popularity

Service

Value

Overall

Based on 37 ratings
Ferntree Rainforest Lodge
is set back in the heart of a lush rainforest, guests are a short stroll from the beach and spectacular mangrove boardwalks. The Rainforest Lodge features low, pitched buildings that are set harmoniously within a dense, green landscape.
...
more info
Heritage Lodge & Spa

Rainforest Cabins
Kids stay and eat FREE
Continental breakfast daily
Popularity

Service

Value

Overall

Based on 15 ratings
Heritage Lodge & Spa
is set within the world's most ancient rainforest. Extensively renovated to a 3 ½ star hotel including light breakfast daily. Swim with jungle perch and turtles and breathe the clear pure air of the Daintree. Sit back, relax and experience nature at its best. ...
more info
Daintree Eco Lodge & Spa

Rainforest Tree Houses
Full breakfast daily - Unique hideaway
Authentic Aboriginal Culture
Popularity

Service

Value

Overall

Based on 23 ratings
Daintree Eco Lodge & Spa
is the perfect destination to indulge yourself, de-stress and re-energise. Immerse yourself in the tranquil and luxurious surroundings, listen to the birds and the natural sounds of the Daintree, and indulge in treatments that are therapeutic and restorative for your total well being...
more info
Cockatoo Hill Retreat

Private Rainforest Tree Houses
Superb views in paradise
Beautiful boutique resort
Popularity

Service

Value

Overall

Based on 1 ratings
Cockatoo Hill Retreat
is paradise found. Carmen has created a special private boutique resort on a secluded rainforest ridge with only 4 rooms handcrafted from local timbers. Each villa has breathtaking views over the Coral Sea and Rainforest. Here you can appreciate the spirit of this World Heritage Rainforest...
more info
Daintree Wilderness Lodge

Luxury Rainforest Bungalows
Fan Palm Forest Rainforest Cabins
Full Breakfast daily & Nature Walk
Popularity

Service

Value

Overall

Based on 7 ratings
An intimate lodge offering tranquility amongst the World Heritage rainforest,
Daintree Wilderness Lodge
offers you the charming intimacy of bungalows individually located within a secluded Fan Palm rainforest....
more info
Viewing 1 to 6 of 6 properties
Page 1
Rainforest Resorts

Rainforest Resorts are ideal for an intimate couples getaway, be it a honeymoon, anniversary, birthday or simply the opportunity to get away and spend some quality time together. Boutique rainforest accommodation comprises of individual timber cabins that are set apart in the rainforest, to provide you with the uptmost peace and privacy. Here you can enjoy the wonders of the rainforest from the comfort of your cabin. Boutique cabins are designed to fully immerse you in the beauty of the rainforest, whilst providing all the creature comforts of a boutique retreat. Warm natural tones create a relaxed and soothing living space and with additions such as a spa bath, private verandah, and luxury toiletries you will not want to leave.
Healing Spa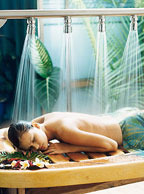 The rainforest is the perfect destination for those who are in need of some self nourishment. With the added facility of a day spa, you can take away a lasting sense of wellbeing through a complete body, mind and soul experience. Treatments are designed to harness the power of nature through the use of clays from the earth, flower and plant essences, herbal extracts and hands on therapy. These modalities integrate the wisdom of ancient cultures, medicines, spirituality and healing, that create a unique experience for the mind, body, soul and spirit.
Find out more:
Silky Oaks Lodge & Healing Waters Spa
Daintree Eco Lodge & Spa
Heritage Lodge & Spa
Dining

Dining is an intimate experience in the rainforest, which is made even more spectacular when when lit up by candlelight in an open air setting. The use of locally sourced produce based on the season is widely incorporated into the menus. The Daintree Wilderness Lodge caters exclusively to Daintree Wilderness Lodge guests only. In line with their advanced eco-accreditation, much of their produce is organically grown and locally source, they create all of our dishes from the 'ground up' free from preservatives and majority gluten free. Evening meals incorporate the best local produce including Wild Barramundi, prawns and King Tiger Prawns from the Gulf of Carpentaria and Atherton Tablelands Prime Beef.
For a special occasion, Silky Oaks Lodge offers private riverside dining which is available in a secluded setting on the Mossman River. Enjoy a 3 course menu, with your selection of wines, the glow of candlelight, the sounds of the rainforest and river surrounding you. The Daintree Eco Lodge offers a fusion of native bush-tucker and contemporary Australian cuisine at their restaurant 'Julaymba', the local Kuku Yalanji word for "Daintree River". Nature is integrated into every aspect of the resort, with a focus on using prime native ingredients fit for the seasons, some even collected on the property, you will find fresh, healthy and innovative dishes suitable for every palate.
Find out more:
Daintree Wilderness Lodge
Silky Oaks Lodge
Daintree Eco Lodge
Environmental Ethos

The Daintree Wilderness Lodge is a wonderful example of low impact building. Many trees were simply built around with some original trees and vines now growing through the floors and roofs. Only two trees were removed during the entire project. Clearing was done by hand (crow bar and shovel). No machinery at all was used. No rainforest timber was used. Cyprus pine was used. All services were placed above ground to prevent any disturbance to the forest floor.
It has always been the ethos of Silky Oaks Lodge to embrace the environment. The lodge is highly sympathetic to its natural surroundings. Originally built on a portion of a farmed and cleared land adjoining the Daintree National Park; for the past 25 years this land has been regenerated and replanted back to the original rainforest habitat. Therefore their 'Eco-Certified -Advanced Ecotourism' status has a solid sustainability foundation due to this reforestation of land the Lodge occupies. All water from the Lodge is drawn from the Mossman River and is treated on site with a sand filter and chlorination plant with the result being a pure minimally treated spring water of a high standard.
A close relationship with the local rainforest Aboriginal community is a priority to the Daintree Eco Lodge. This site is important to the local Kuku Yalanji people (the original inhabitants of the site) where forefathers of the Kuku Yalanji tribe used it as a resting place, as it provided spring water, an abundance of edible and medicinal plants, fauna, bathing holes, and protection from harsh weather conditions. The Daintree Eco Lodge endeavours to preserve and share the culture and conservation of the environment through supporting employment to over 50 Indigenous personnel, and providing experiences that are in harmony with nature and in respect of culture – inspired by the rainforest Aboriginal people. Architecturally, the treehouse cabins have been designed to minimise interruption to the ancient fragile environment, and to capitalize on the valley's own micro-climate.
Find out more:
Daintree Wilderness Lodge
Silky Oaks Lodge & Healing Waters Spa
Daintree Eco Lodge & Spa
Whats Hot!
Travel Tools
Whats Hot!