Wujal Wujal & Bloomfield Info
Wujal Wujal means waterfall,
waterfall -- or "big waterfall", in the local Kuku Yalanji language. The 4X4 journey to visit the waterafl, and community is an absolute must with its combination of breathtaking natural scenery and Indigenous culture.
I'll pick you up at your accommodation. If you're in the Cow Bay area it's at 7.00am or around 7.30am at Cape Trib.
We are going to head north up the beautiful Bloomfield Track in a comfortable Toyota Prado, and we might pick up a couple of others on the way.
I will ask you what you want to see and what you want out of the trip, and will try to suit your needs as much as I can.
On the way, if we see something interesting, we can stop for a photo. You get to ask questions, and get them answered.
We will drive through creek crossings, up steep hills, look out over the Mountain ranges, back towards the beaches, and try to sight some of the local fauna. As we go, we'll drive through different types of rainforest and later savannah country towards Wujal Wujal.
We'll stop to look at some of the interesting plants which make the rainforest tick. I'll explain them, simply(!), and introduce you to some of their uses as food or medicine. There are a couple of fascinating strangler figs, different palms, herbs and spices and palms. More later!!
Wujal Wujal means waterfall, waterfall -- or "big waterfall", in the local Kuku Yalanji language.
Usually, one of the Walker family, traditional owners of the area, will take us to visit the waterfall. There is often a resident croc, Spartacus (or Spartaca, we're not sure which!) warming itself on a rock.
On Tuesdays, Wednesdays and Thursdays the Wujal Arts Centre will be open for a look, a chat with one of the resident artists, and a shop if you wish.
On the way back, we'll stop at the lovely Woobadda Creek for a swim, more photos and a cup of Daintree tea.
We'll drop you off at 12.30pm Cape Trib in time for your journey back or another afternoon activity of your choice.
Afternoon tours are available from 1.30pm

Wujal Wujal & Bloomfield Gallery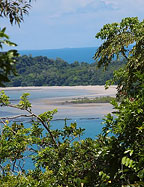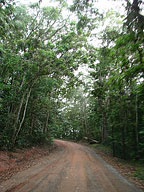 Wujal Wujal & Bloomfield Rates
TERMS
Child Age = 4-14 years
Family = 2 Adults & 2 Children
CURRENCY CONVERTER
WE DO NOT CHARGE BOOKING FEES OR CREDIT CARD SURCHARGES
Wujal Wujal & Bloomfield Location Map
Wujal Wujal & Bloomfield Simple Enquiry
Need Help With Your Enquiry
Our Cairns Office is open again in 12 hours