Home >
Daintree Beach House
Click on Map Icons to View More Info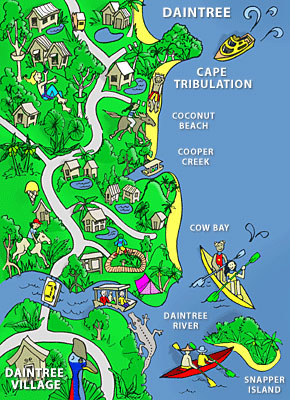 Top 10 Articles
4WD Safaris
Accommodation
Be Cass-o-wary!
Bloomfield
Bloomfield Track History
Boris's Bar, Cafe & Restaurant
Bruce Belcher River Cruise
Bug & Butterfly Museum
Butterflies
Cafe on Sea
Daintree Region Guide
Click Images to view gallery for this subject
Daintree Beach House
Travellers Tale!
Submitted By: Gigi - Australia
Updated: 15-Feb-2007
We arrived at Wonga Beach after a leisurely drive from Cairns, about 1 hour 10min.

The house is located on the Esplanade amongst a few other holiday and residential houses. The key was in the door for us, what a neighbourhood! As the house was a bit average on the outside, the inside was a real 'Wow' experience! Totally renovated very modern with all the extras you need for a comfortable holiday! The fridge greeted us with Champagne, Chocolates and fresh fruit, the oil burner filled the house with a beautiful smell and flowers were placed in the entrance hall.

After a swim in the large pool we went for a walk on the beach just across the road. Not a sole in sight, just rainforest, mountains and beach! This is the real advantage of a spot that has not yet been commercially discovered!

At dinner time we decided to look for the Daintree Palms Hotel, the only eatery in the area. As we were not quite sure where it was, we took the car, but it was within easy walking distance. It's not just a Pub, but more like a resort. The restaurant is built around a beautiful Barramundi Lake, which made our choice of food easy! And the dinner was fantastic! Totally fresh Barra, grilled with vegies and salad, yum!

Happy customers! We returned to 'our' house and spent a relaxing night watching movies on the big flat screen TV.
The stay at the Daintree Beach House was relaxing, beautiful and inspiring! Highly recommended for anyone who is looking for a place away from the hustle and bustle!
Edit This Page
Edit Page Content
Post Comment