Click on Map Icons to View More Info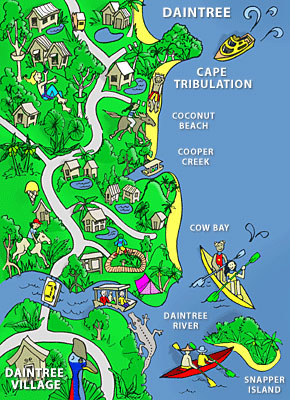 Top 10 Articles
4WD Safaris
Accommodation
Be Cass-o-wary!
Bloomfield
Bloomfield Track History
Boris's Bar, Cafe & Restaurant
Bruce Belcher River Cruise
Bug & Butterfly Museum
Butterflies
Cafe on Sea
Daintree Region Guide
Click Images to view gallery for this subject
Exotic Fruit Farm
Updated: 25-Aug-2009
In 1988, Digby and Alison chose to set up an organic farm in Cape Tribulation. Over the last 10 years, They have collected seeds from around the world and planted an exotic tropical fruit orchard, with more than 100 different species and over 2000 fruit trees from the Amazon, South East Asia, and the Caribbean.
All our produce is grown organically, and is free of pesticides and artificial chemicals.
In 1996, as the trees started to produce enough quantities of fruit Alison and Digby decided to offer fruit tasting to visitors who were interested in unusual fruit and permaculture. Hundreds of visitors from around the world have arrived to sample their fruit, and they have enjoyed watching people discover for themselves the delights of eating exotic tropical fruit.
Cape Trib Exotic Fruit Farm offers daily fruit tastings and a farm tour. You will get to taste at least 10 different exotic fruits in any season. They will show you through the organic orchard, and permaculture system.
Enjoy spending time with Digby Sarah, Antoinette or Trish, local exotic fruit enthusiasts who will guide you through the menu and entertain you with stories about the fruit while you eat them.
You will learn how to prepare the fruit, what parts to eat and how to eat them.
Some of these fruits are starting to appear in markets - but many will never appear in the capital cities, as they are too fragile. They simply have to be sampled where they are grown, fresh from the tree.
Exotic tropical fruit comes in all shapes and sizes - some are hairy, others have lumps and bumps or sharp spikes.
Often the most unusual fruit turns out to be the most delicious.
Tempt your taste buds with new and unusual flavours such as the chocolate pudding fruit and fruit that tastes like lemon meringue and creme caramel.

Edit This Page
Edit Page Content
Post Comment