Home >
Discovery Centre Review
Click on Map Icons to View More Info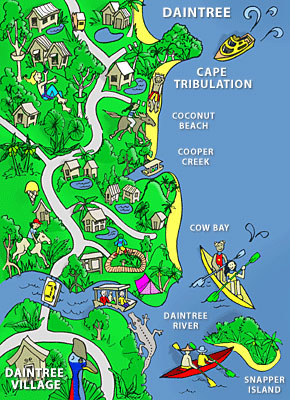 Top 10 Articles
4WD Safaris
Accommodation
Be Cass-o-wary!
Bloomfield
Bloomfield Track History
Boris's Bar, Cafe & Restaurant
Bruce Belcher River Cruise
Bug & Butterfly Museum
Butterflies
Cafe on Sea
Daintree Region Guide
Click Images to view gallery for this subject

daintree discovery centre

gift shop and cafe

the canopy tower

elevated boardwalks

information boards

view below from canopy tower

fish & reptiles

fresh water turtle

view over the rainforest canopy
Discovery Centre Review
Travellers Tale!
Submitted By: Melanie - Australia
Updated: 01-May-2007
Nestled away in the midst of the ancient Daintree Rainforest is this fun and educational centre.
The Daintree Discovery Centre is like a science museum, only it is almost entirely outdoors and dedicated wholly to educating the public about the rainforest, its animals and its ecosystem.
We found this multi award-winning Centre on the way up to Cape Tribulation. For those who have not been up this way, the 2-hour journey from Cairns to Cape Tribulation must be one of the - if not THE - most stunning drives in Australia. It passes along the absolutely breath-taking Coral Sea coastline, beside vast fields of cane, across the Daintree River and into the ancient world of the Daintree Rainforest. Along the way, you are likely to spot elusive rainforest creatures, from frogs and giant lace monitor lizards, to the awe-inspiring flightless cassowary bird. On this particular journey, we were lucky enough to spot a cassowary and his three chicks. I later learnt at the Daintree Discovery Centre that this cassowary would have been male as it is the father that looks after the young.

The Daintree Discovery Centre actually consists of series of boardwalks, elevated walkways and a 30m tall canopy tower. The aim is to enable visitors to view the surrounding 2 million-year-old rainforest from all different aspects and heights. The floor of the rainforest, for example, is an entirely different world from the canopy of the trees. Different plants and creatures live at different heights of the forest, depending on the amount of light and food sources available. Tour guides are available, and they are very informative. If you've missed a tour, like we did, the alternative audio guide was fantastic. At each numbered station, just press in the number on your handset and you will be amazed just how much you didn't know about this ecosystem. An indoor educational centre also features live fish and reptiles. It was really quite fascinating.
It is not difficult to find the Daintree Discovery Centre. Just look for the sign 10 minutes after you have crossed the Daintree River (coming from Cairns). It is most definitely a worthwhile experience if you are planning to stay at Cape Tribulation, enabling you to further open your eyes to your surroundings and appreciate just how ancient and delicate this rainforest ecosystem is.
Edit This Page
Edit Page Content
Post Comment