Click on Map Icons to View More Info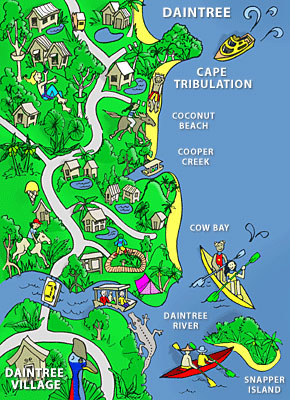 Top 10 Articles
4WD Safaris
Accommodation
Be Cass-o-wary!
Bloomfield
Bloomfield Track History
Boris's Bar, Cafe & Restaurant
Bruce Belcher River Cruise
Bug & Butterfly Museum
Butterflies
Cafe on Sea
Daintree Region Guide
Click Images to view gallery for this subject
Mangroves
Updated: 13-Apr-2007
Mangroves are what we call the collection of salt tolerant plants that are found along sheltered shorelines and in the saline reaches of rivers along the length of the Great Barrier Reef.
Mangrove forests occupy approximately 2070 km2 spread along the length of the coast adjacent to the Great Barrier Reef World Heritage Area.

About 95 per cent of this forest is on the border of the World Heritage Area, not actually inside it. However, all mangrove forests within and adjacent to the World Heritage Area are interconnected with, and form a critical part of, the Great Barrier Reef ecosystem.
Mangroves within and bordering the Great Barrier Reef Marine Park are some of the most pristine and diverse mangrove forests in the world. There are 34 species of mangroves in Queensland with a total of only 69 species worldwide.
These salt tolerant plants have adapted for where they live. Each high tide, the sea floods their roots and trunks. The mangroves have a number of different systems to handle all this salt:
Their roots can prevent its absorption by filtering it out
They can concentrate the salt in older leaves which fall off, taking their accumulated salt with them
Some species have salt glands which actually excrete the salt onto the surface of the leaves where it is washed away by the rain.
Boardwalks have been installed at several locations in the Wet Tropics area and this makes a wander through the mangrove forest enjoyable and easy - but don't forget your insect repellent!
Edit This Page
Edit Page Content
Post Comment