Click on Map Icons to View More Info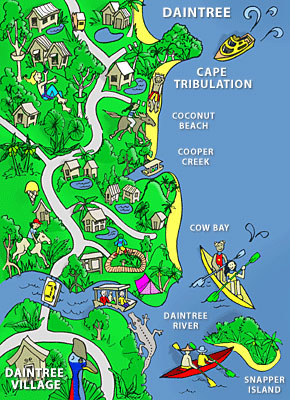 Top 10 Articles
4WD Safaris
Accommodation
Be Cass-o-wary!
Bloomfield
Bloomfield Track History
Boris's Bar, Cafe & Restaurant
Bruce Belcher River Cruise
Bug & Butterfly Museum
Butterflies
Cafe on Sea
Daintree Region Guide
Click Images to view gallery for this subject
History
Updated: 01-Apr-2007

"I had ambition not only to go farther than anyone had been before but as far as it was possible for man to go"
James Cook

In 1770 Captain James Cook the discoverer of Australia, was on an exploration voyage up the north Queensland coast, when his ship the "Endeavour" went aground on a reef.
He named the reef "Endeavour Reef" after his ship. He gave the nearest point the unforgettable name of Cape Tribulation and wrote in his diary 'here began all our troubles', and the mountain behind it he named Mount Sorrow – in all it was not one of his most enjoyable voyages.
The Endeavour struggled north along the coast into an inlet that is now The Endeavour River and where is now located the coastal township of Cooktown.
Except for a large piece of coral, found lodged in the ships hull, this story may never have made the history books!
Australia goes back to one of the most ancient countries on earth populated by the oldest race on earth, the Australian Aborigine. The original Australians were a nomadic race and other than rock paintings, carvings, middens and burial sites they left the country undisturbed.
For many thousands of years the Kuku Yalanji people occupied land between the current sites of Cooktown and Mossman.
When the gold rush arrived, things would never be the same again for the Kuku Yalanji. Cooktown became a bustling port, the second largest after Brisbane. Aboriginal people worked as labourers alongside Chinese, Malays and Islanders carving settlements out of the forest.
As the population grew, forests were cleared for sugar cane, tea and cattle. The Daintree River ferry began in the 1950's and by 1961 the first real road reached Cape Tribulation. European occupation brought massive change.
Unlike countries with ancient man-made buildings from which many of our visitors come, Australia has a different history – an ancient natural heritage. The Flora of the Daintree includes more families of plants with primitive flowering species than anywhere in the world.

The Kuku Yalanji people continue to feel a strong responsibility for the Daintree region. Their songs and legends continue to give special<
Edit This Page
Edit Page Content
Post Comment