Home >
Cooper Creek Wilderness
Click on Map Icons to View More Info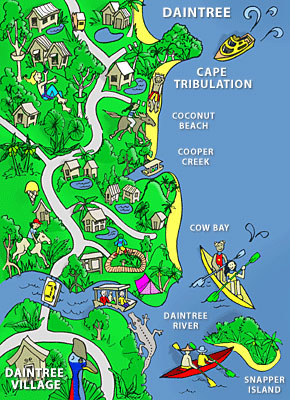 Top 10 Articles
4WD Safaris
Accommodation
Be Cass-o-wary!
Bloomfield
Bloomfield Track History
Boris's Bar, Cafe & Restaurant
Bruce Belcher River Cruise
Bug & Butterfly Museum
Butterflies
Cafe on Sea
Daintree Region Guide
Click Images to view gallery for this subject
Cooper Creek Wilderness
Updated: 01-Apr-2007
The magic of the Daintree is elusive...

Cooper Creek Wilderness takes you directly to the heart - the sacred heart of the 135-million year old living museum.
Cooper Creek Wilderness lies under the protection of Thornton Peak. Occupying the most biologically diverse part of Australia's Wet Tropics World Heritage estate, it is considered to be the closest living counterpart to the ancient rainforests of Gondwana.
The incomparable old-growth grandeur of magnificent fan palm galleries and spectacular blue waters of Cooper Creek provides for experiences as inherently wondrous as they are challenging and at times uncertain.
There are no artificial boardwalks. Natural trails traverse an acient landscape that is part of the complex rainforest environment. Access may be unsuitable for persons with limited mobility; wildlife behaviour and fauna sightings are unpredictable. Participants need to accept the risks and uncertainties associated with a genuine wilderness experience.

Explore the rainforest's secrets with an experienced inhabitant who will guide you through the Daintree wilderness. Tours have been designed to provide exclusive experiences away from mass tourism. Only Cooper Creek Wilderness can show you the best of the Daintree Rainforest.
Coopers Creek offers 2 and 6 hour guided interpreted walks including a 1-hour cruise through the world's most diverse mangrove community in search of elusive crocodiles. Noctural walks including an evening meal overlooking Cooper Creek and a leisurely swim in its idyllic waters are also available.
Edit This Page
Edit Page Content
Post Comment