Home >
Saltwater Crocodiles
Click on Map Icons to View More Info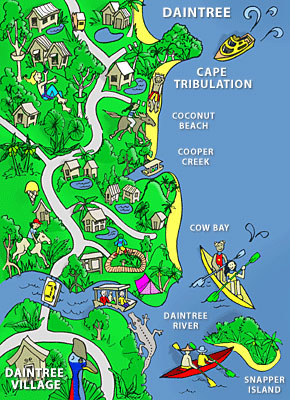 Top 10 Articles
4WD Safaris
Accommodation
Be Cass-o-wary!
Bloomfield
Bloomfield Track History
Boris's Bar, Cafe & Restaurant
Bruce Belcher River Cruise
Bug & Butterfly Museum
Butterflies
Cafe on Sea
Daintree Region Guide
Click Images to view gallery for this subject

SALTWATER CROCODILE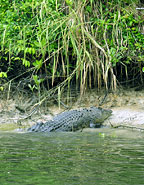 RESTING ON RIVER BANK

CROC SPOTTING

BRUCE BELCHERS RIVER CRUISE

NEW CROC HATCHLING SPOTTED ON RIVER CRUISE

Saltwater Crocodiles
Updated: 15-Apr-2007
Saltwater crocodiles are not only found in Saltwater as the name suggests. They are frequently found in major creeks and foreshores of the tropical north...
There are two species of crocodiles in Australia, the Saltwater and Freshwater species, and only the "salties" inhabit the Daintree River. It's scientific name is Crocodylus Porosus and its habitat ranges throughout the Indo Pacific regions.
Although history suggests the animals to be very big, the largest crocodiles seen in Australia these days would probably be between 5-6 metres. The Daintree River has a population of about 70 adult crocodiles, the largest being the males at about 5 metres. The females reach about 3.5 metres, and there are many juveniles and hatchlings.
In the last 20 years the Daintree has become well-known for its success in crocodile-spotting.
There is a great fascination for these animals, particularly with the tourists who visit us from all over the world. Crocodile spotting in this region has only become popular since about the mid 70's and visitors are impressed with the opportunity to see the crocodiles from nearby. The animals have become used to the boats and by leaving their engines running, or idling, cruise boat operators can get a close look from about 10-15 metres.
The population is described by the experts as being of a low density, and that is because of prolonged hunting over many years. By 1974 the numbers were dangerously low and legislation was introduced to protect them. The numbers have come back slightly to the present sustainable level and they are still breeding successfully.
They breed during the summer by laying many eggs in a large composting mound which they construct. The eggs are incubated for 3 months until they hatch during the Wet season. There is about a 30% hatching rate.

The hatchlings are 20cm long and stay with the female for several weeks or months before dispersing. If one or two survive, nature has been successful.

Some of the predators include goannas (monitors) which will dig into the nest to take the eggs, while fish, sharks and birds attack the hatchlings. For safety while fishing, hatchlings move along the edges in the shallows catching prawns, crabs and small fish. The larger crocs have a staple diet of fish and crabs although they are opportunistic and are great scavengers.
The best time to spot crocs are the cooler winter months. The wet season temperatures are usually too hot so the crocodiles submerge to the river bottom during<
Edit This Page
Edit Page Content
Post Comment