Click on Map Icons to View More Info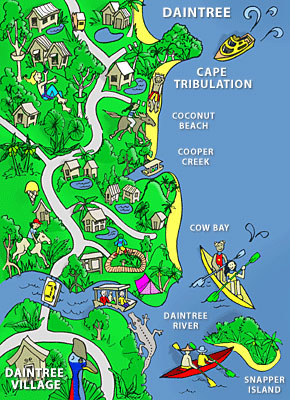 Top 10 Articles
4WD Safaris
Accommodation
Be Cass-o-wary!
Bloomfield
Bloomfield Track History
Boris's Bar, Cafe & Restaurant
Bruce Belcher River Cruise
Bug & Butterfly Museum
Butterflies
Cafe on Sea
Daintree Region Guide
Click Images to view gallery for this subject

DAINTREE BUTTERLIES
MANY BUTTERLIES BLEND INTO THE RAINFOREST

BUTTERFLY LARVAE (CATTERPILLAR)

UNOBTRUSIVE & DELICATE

CAMOUFLAGE
Butterflies
Updated: 15-Apr-2007
Extract from "Daintree - Jewel of Tropical North Queensland" by Lloyd Nielsen.
There are many colourful butterflies about the Daintree rainforest - triangles, leafwings, swallow-tails, sword-tails, cruisers, jezabels, blues and others.
The sunny edges of rainforest where shrubs are in flower often attract butterflies in numbers, particularly where the introduced lantana invades the perimeter. Here butterflies visit flower after flower, systematically searching for nectar.
Like some of the colourful birds though, bright colours of many butterflies blend with the rainforest. Most butterflies are unobtrusive, flying only in bright sunny weather.

The huge and beautiful Ulysses Butterfly however, is obvious, and often seen about the warm lowland rainforests of the Daintree. Brilliant metallic blue wings resemble an intense blue flashing light as the butterfly flies rapidly about open spaces against a background of green foliage.
Often symbolised in promotional material in the tourism industry, it is as evocative to these northern rainforests as the Southern Cassowary or the Fan Palm.
You may also be fortunate enough to see the large green, gold and black male Birdwing butterfly about the rainforest edges or clearings.
With a slower, more relaxed flight than the Ulysses, it resembles a large leaf aloft on the breeze. The female is sombre in black and white with touches of yellow and red. With a wingspan of about 20 centimetres she is Australia's largest butterfly.

To order a copy of "Daintree - Jewel of Tropical North Queensland" please visit: www.birdingaustralia.com.au/daintree.html
Information kindly supplied by:
Daintree Village Tourism Association
The Daintree Village Tourism Association is a voluntary body comprising tourism operators and service providers within the travel industry operating between the Daintree River and the Mossman River north of Cairns in Tropical North Queensland.
Edit This Page
Edit Page Content
Post Comment