Click on Map Icons to View More Info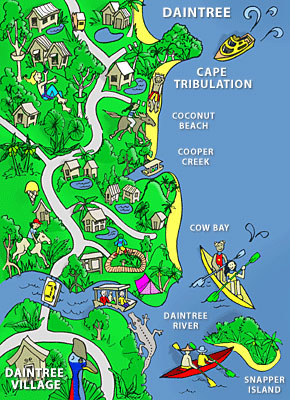 Top 10 Articles
4WD Safaris
Accommodation
Be Cass-o-wary!
Bloomfield
Bloomfield Track History
Boris's Bar, Cafe & Restaurant
Bruce Belcher River Cruise
Bug & Butterfly Museum
Butterflies
Cafe on Sea
Daintree Region Guide
Click Images to view gallery for this subject
Frogs
Updated: 13-Apr-2007

Tropical North Queensland is a very special area for frogs...

The Wet Tropics area alone is home to about 54 species of frogs. More than 20 species are found in the rainforests and no where else.

Representatives of all five Australian frog families are found in the area. Some limited to very small areas such as The Thronton Peak tree frog which apparently occurs only above 640m on Thornton Peak.
One of the world's favourite frogs is the Common Green Tree frog, which is called White's Tree frog in the USA. Even as an adult of 90mm (3 ½ inches) in size, the Green Tree frog always retains its gentle baby face.

It is probably the most commonly kept frog in Australia and has been kept for decades overseas.

It is often found around houses, especially in outdoor loos (bathrooms) and in gutter pipes. Sometimes these frogs are found in mailboxes and moved, only to be found in the same mailbox a few days later. Green Tree Frogs actually have a 'homing instinct'.

Like all rainforest creatures frogs are an integral part of the ecosystem - eating and being eaten by a variety of other animals.

Frogs are especially vulnerable to such things as pollution, insecticides, herbecides etc as they absorb moisture through their skin. Consequently, they are widely recognised as a 'barometer' for the well being of our environment.
Edit This Page
Edit Page Content
Post Comment