Home >
Chris Dahlberg's Birdwatching Tour
Click on Map Icons to View More Info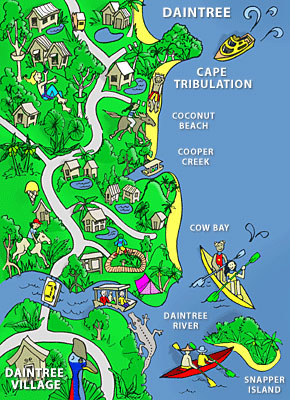 Top 10 Articles
4WD Safaris
Accommodation
Be Cass-o-wary!
Bloomfield
Bloomfield Track History
Boris's Bar, Cafe & Restaurant
Bruce Belcher River Cruise
Bug & Butterfly Museum
Butterflies
Cafe on Sea
Daintree Region Guide
Click Images to view gallery for this subject

AZURE KINGFISHER - MOST PHOTOGRAPHED BIRD

MORE THAN 430 BIRD SPECIES

BIRDWATCHING AT DAWN

ESTAURINE CROCODILE

GLIDE WITHIN METRES OF BIRDLIFE

SPECTACLEDFLYING FOXES

DOUBLED-EYED FIG PARROT
Chris Dahlberg's Birdwatching Tour
Updated: 27-Apr-2009
"Chris Dahlberg's Daintree River Tours has to be a highlight in any set of birding experiences in Australia."
For birdwatchers visiting the Wet Tropics of North Queensland, the region of Daintree is a 'must do'. The wet tropics is home to more than half of Australia's birds which means that the region harbours more than 430 bird species.
The diverse habitats of the lowland area include grassland, rainforest, wetlands, mangroves, open forest, rivers, estuaries, coastal melaleucas and beaches. These areas attract a large number and variety of birds.
Many of the target birds for North Queensland can be found here including Little Kingfisher, Azure Kingfisher, Buff-breasted Paradise Kingfisher, Great-billed Heron, Black Bittern, Double-eyed Fig-Parrot, Victoria's Riflebird, Spotted Catbird, Pied Monarch, Macleay's Honeyeater, Beach Stone-Curlew, Gould's Bronze-Cuckoo and many, many others
Prime birdwatching time in the Daintree is October and the beginning of November which coincides with the arrival of the last regular migrant species and before the real hot weather takes hold.
Chris Dahlberg's Daintree River tours have been operating since July 1992. The birdwatching tour takes place at dawn and lasts for 2 hours. It departs from the Daintree Village Jetty; this is at the freshwater end of the Daintree River, central to the varied habitats of the Daintree Valley.
The beauty of using a boat is that a small group can go, in seated comfort, and glide up to within metres of kingfishers and herons without disturbing them, giving the best possible and the most memorable view of all. The tour regularly covers a 5 kilometre stretch of the river in just 2 hours.
Other wildlife in the wild seen regularly includes reptiles, especially in the cooler months. Saltwater Crocodiles, Green Tree Snakes, Eastern Water Dragons and Amethystine Pythons are the most common. The only mammal regularly seen is the Spectacled Flying-fox or fruit bat.
The area north of the Daintree River towards Cape Tribulation attracts lowland rainforest birds. Rainforest birding can often be difficult, as not only are they well camouflaged but the complexity and density of the rainforest is an additional challenge.

Although rainforest birds are hard to spot, the possibilities of seeing Southern Cassowary, Double-eyed Fig Parrot, Spotted Catbird, Macleay's Honeyeater, Wompoo Pigeon and others, make the trip worthwhile.

"The highlight of the trip for us who love birds and are collectors of original bird paintings was Chris Dahlberg's dawn daintree river tour to watch birds and crocodiles. We saw some beautiful rare species of birds and took lots of photos." Meni Stefanovski - Melbourne
Chris Dahlberg's Birdwatching Tour

Departs: Daintree Village Jetty
6:30am winter April - Oct
6:00am summer Oct - April

Cost: $55 adult $35 child
Duration: 2 hours

www.daintreerivertours.com.au
Edit This Page
Edit Page Content
Post Comment