Click on Map Icons to View More Info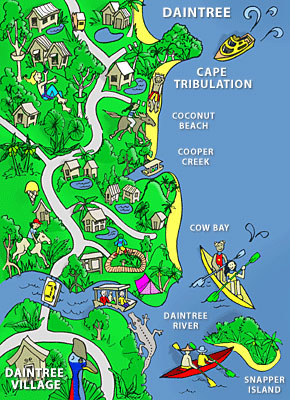 Top 10 Articles
4WD Safaris
Accommodation
Be Cass-o-wary!
Bloomfield
Bloomfield Track History
Boris's Bar, Cafe & Restaurant
Bruce Belcher River Cruise
Bug & Butterfly Museum
Butterflies
Cafe on Sea
Daintree Region Guide
Click Images to view gallery for this subject
Cassowaries
Updated: 15-Apr-2007
The Daintree rainforest is a critical habitat and a 'hot spot' for the Southern Cassowary which is classified as an endangered species...
Rainforests would be a very different place with diminished diversity if there were no cassowaries. These huge birds are the only animals capable of distributing the seeds of more than 70 species of trees whose fruit is too large for any other forest dwelling animal to eat and relocate.
Cassowaries can grow up to two metres tall and weigh 85 kilograms. The cassowary's feet have three large toes, with a spike on each foot up to 120mm long and can run up to 50 km/hr. They have a striking blue head with bright red wattles, and a glossy black coat.

The female cassowary is larger and more attractive than the male.
Chicks have cream and black stripes when they hatch. From six months of age, they turn dark brown and, by about four years, they have turned black, like their parents.
The female cassowary has turned the tables on what is mostly a maternal social structure in the animal world. The males incubate the eggs and raise the chicks. Once a clutch of eggs is laid, the female will seek out other males with which to mate. For each male that she finds, she will provide a clutch of eggs (usually 3 to 5) for him to nuture.
The cassowary is flightless and is normally quite shy. However, if the bird is agitated in any way – such as being cornered in a small area, or if any animal including human approaches it's nest – it will lash out violently with its sharp claws.

Serious injury can result, so avoidance of these large birds is recommended. If you see a cassowary, do not turn and run away from it. Instead, face the bird and back away slowly. Do not feed the cassowary either. (See Useful Info)

Look for signs such as large dung piles scattered on the rainforest floor, and the unmistakable three-toed footprint (up to 180mm).
Edit This Page
Edit Page Content
Post Comment