Home >
Bloomfield Track History
Click on Map Icons to View More Info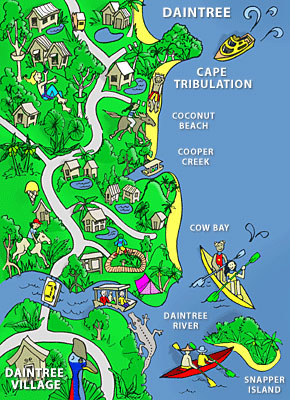 Top 10 Articles
4WD Safaris
Accommodation
Be Cass-o-wary!
Bloomfield
Bloomfield Track History
Boris's Bar, Cafe & Restaurant
Bruce Belcher River Cruise
Bug & Butterfly Museum
Butterflies
Cafe on Sea
Daintree Region Guide
Click Images to view gallery for this subject
Bloomfield Track History
Updated: 14-Feb-2012
Information courtesy of Masons Tours
For perhaps thousands of years, the Kuku Yalangi Aboriginal people lived along this section of coastline. For this reason, when whites arrived a well used track existed from Cape Tribulation to the Bloomfield River. As early as the 1880s a timber cutter called Hal Collins used it to search for Red Cedar.
First attempts to upgrade it came in 1968 when a privately funded group of local farmers bulldozed a 'pilot track'. They perhaps felt that a coastal road link through to Cooktown would improve their land values.
The 'pilot track' was narrow, avoiding large trees, and not graveled, sections of it exceeded 33% (1:3) in gradient. It was open only a few weeks, the rain closed it. The harsh terrain won round one and it was some time before anyone bothered to reopen it. In 1978, a land developer reopened it but the end result was the same.
For 14 years it was essentially a walking track. In those 14 years a number of things happened. Ancient flowering plants were discovered in the Daintree Rainforest. Tourists began to visit in increasing numbers and the Daintree began metamorphosis from a farming area to a tourist area. In 1981, The Cape Tribulation National Park was gazetted.
Further south in Mossman, old plans for a widened, graveled Bloomfield Road were revitalized. The Douglas Shire Council began construction in 1982. Protesters tried to stop the road, leading to several arrests. In spite of almost no local support, the road was built in a matter of weeks. The protesters won in the end though, the publicity surrounding the issue resulted in the nomination and subsequent inclusion of the area on the World Heritage List.
Another interesting thing about the protest is that the protest leader, Mike Berwick, stood for mayor of the council he protested against and won! In 2003 he was still mayor. This more than anything else indicates the mood of the community and the change in people's views about the environment at that time.
Currently the future of the road is uncertain. No decision has been make about the road but the high cost of road building and low population it serves means that it will probably remain a 4wd Track for some time to come.
Masons Tours will show you pictures of the protest and talk a little about the issues surrounding 'the road'. The Mason Family were involved in the building of the initial pilot road, and later opposed the road in the 1980s. Hans, one of the guides, was a protester who took direct action to try to halt construction. There is not much Masons don't know about the road or the area.

Edit This Page
Edit Page Content
Post Comment