Home >
Daintree Village History
Click on Map Icons to View More Info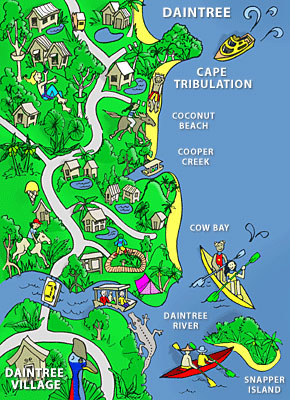 Top 10 Articles
4WD Safaris
Accommodation
Be Cass-o-wary!
Bloomfield
Bloomfield Track History
Boris's Bar, Cafe & Restaurant
Bruce Belcher River Cruise
Bug & Butterfly Museum
Butterflies
Cafe on Sea
Daintree Region Guide
Click Images to view gallery for this subject

DISCOVERED IN 1873

George Elphinstone Dalrymple

Daintree National Park

Daintree Village Today

Popular River Cruises
Daintree Village History
Updated: 17-Apr-2007
For centuries the Daintree area was inhabited by the Kuku Yalanji people. They lived in small kinship groups of 8 to 12 in camps spread along the banks of the river and creeks between Bloomfield and Mossman. They know this area as Julaymba.
The Daintree River was only discovered by Europeans in 1873 when Scottish geologist and explorer George Elphinstone Dalrymple came across a magnificent river and named it after his friend and early government geologist, Richard Daintree. Not just the river but a village, a national park and the whole region now share his name.
Daintree Village was originally the base for timber-cutters who came to log the red cedar which once flourished in the area, and some of their original tools may be viewed in the Daintree Timber Museum & Gallery.
The Village gave it's name to the famous World Heritage-listed Daintree National Park which stretches in sections between Mossman Gorge in the south to the Bloomfield River in the north. Before the road to Mossman was completed in 1933 the only access to the Village (which now has a population of about 100 people) was by river.
Today tourism is a major industry throughout the region but many descendants of the original settlers still live here, some operating thriving beef-cattle properties in the river valleys beyond Daintree Village while others farm sugar and tropical fruits.
Driving north from the sugar-mill town of Mossman towards Daintree the road travels through extensive areas of sugar-cane, set against the magnificent backdrop of the rainforested coastal ranges - and beautiful uncrowded beaches are only a short distance from the main road.

Information kindly supplied by:
Daintree Village Tourism Association
www.daintreevillage.asn.au
The Daintree Village Tourism Association is a voluntary body comprising tourism operators and service providers within the travel industry operating between the Daintree River and the Mossman River north of Cairns in Tropical North Queensland.
Edit This Page
Edit Page Content
Post Comment