Click on Map Icons to View More Info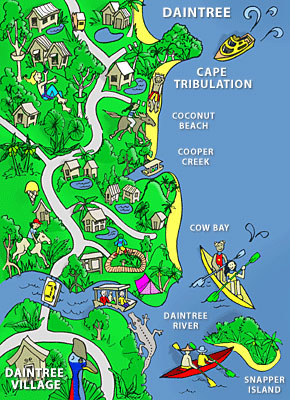 Top 10 Articles
4WD Safaris
Accommodation
Be Cass-o-wary!
Bloomfield
Bloomfield Track History
Boris's Bar, Cafe & Restaurant
Bruce Belcher River Cruise
Bug & Butterfly Museum
Butterflies
Cafe on Sea
Daintree Region Guide
Click Images to view gallery for this subject
Eco Calender
Updated: 01-May-2007
Take a look at whats happening this year...

January
Wet Season Starts
The Kuku Yalangi people refer to December - March as the 'Proper wet time'. Fruit bats can be seen feeding on ripe Davidson Plums and the first Hercules Moths appear.

March
Cyclone Fury
Historical records show that Cyclones can occur throughout the year in Tropical North Queensland but they generally happen between November and April. Category 5 Cyclone Larry hit on 20 March 2006.

April
Tasty Treats
The cassowary is particularly partial to the round round pink fruit of the Satin Ash that ripens from March - April through to September - October, depending on the season.

May
Cassowary Eggs
Cassowaries usually lay their eggs from June to October, although chicks have been recorded as early as May and as late as January. Saw-shelled Turtles spend more time sunning themselves on rocks.

August
Flocks of pigeons
Black and white Imperial Piegeons fly in from New Guinea around August and leave again between March and April. Wompoo Pigeons begin to breed. Mating season for Striped Possums ends.

September
Perfect weather
From now on the weather starts to get hotter as it builds up to the 'Wet' season. Spectacled Flying Fox breeding season begins about now. The Imperial Pigeons also begin to breed.

October
Strom time
Striped Possums feed on flowering Black Bean trees. The first of the Golden-Orb spiders start to appear. The Buff Breasted Paradise Kingfishers fly in from New Guinea. Silky Oaks flower.

December
Hot and Humid
The wet often brings 100% humidity, torrential rain and higher temperatures for those living in the Daintree. In 2006 the area recorded almost 6 metres of rain. Mating season for crocodiles begins. Fire flies visible at night.
Edit This Page
Edit Page Content
Post Comment