Click on Map Icons to View More Info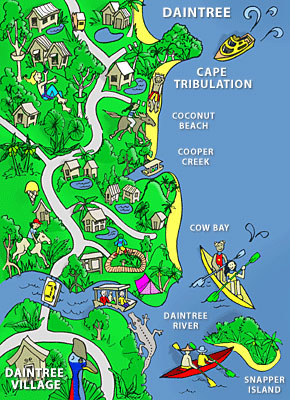 Top 10 Articles
4WD Safaris
Accommodation
Be Cass-o-wary!
Bloomfield
Bloomfield Track History
Boris's Bar, Cafe & Restaurant
Bruce Belcher River Cruise
Bug & Butterfly Museum
Butterflies
Cafe on Sea
Daintree Region Guide
Click Images to view gallery for this subject

DIVERSE LOCAL BIRDLIFE

CASSOWARY SEED DISTRIBUTION

SOUTHERN CASSOWARY

KINGFISHER

DISCOVERY CENTRE

CANOPY TOWER
Canopy Capers
Updated: 01-May-2007
Birdwatchers flock to the canopy...

The Wet Tropics of NQ are well known for many reasons including their World Heritage status - which they share with the Great Barrier Reef. To the growing international birding fraternity the area is also renowned for the outstanding opportunities it offers to locate, in order of, 60% of Australia's bird species.

The Wet Tropics encompasses the meeting point of three major Australian bird distribution areas, the Northern, Eastern and North Qld region. Best known in tourism advertising for its luxuriant rainforest, it is also remarkable for its close proximity to many other habitats - all within an hour's drive. Away from the Coral Sea, and beyond the Great Dividing Range, we have the Savannah Woodland, highland Eucalypt Forest and wetland areas.

The diversity of the local birdlife in the Daintree is extraordinary but the iconic species would be the Southern Cassowary, a denison of the rainforest. Despite its vibrant neck colours and large size, its dark plumage makes it difficult to spot unless its on the move. An an endangered species, these magnificent birds are easily overlooked.
The Daintree Rainforest is very dense and this offers a challenge when looking for local wildlife. However, patience and persistence will be amply reawarded. Colourful birds include the Fruit-doves and parrots which follow the never ending sequence of fruit and flower.

Endemic species include bowerbirds, honeyeaters, riflebirds, flycatchers and scrubwrens. These are complimented in spring and summer by visitors from Asia and Papua New Guinea which arrive from September to November to breed. Prehaps the most spectacular bird is the Buff-breasted Paradise-kingfisher which nests in terrestrail termite mounds. Though very colouful it can be frustrating to observe until March when they are nuturing their free flying young.
With its Arial Walkway and Canopy Tower, the Daintree Discovery Centre offers an excellent opportunity for visitors to spot elusive rainforest birds at every level of the rainforest. But it would be remiss of me not to mention the Daintree River. Local guides maintain a very broad interest in all aspects of the riverine environment, from mangroves to birdlife.
There are many types of eco-tours that visit the Daintree Rainforest, from large groups to sole charters. There are also a number of specialist birding guides throughout the area catering for various sized groups, as well as self drive visitors, and I would encourage visitors to research the wide range of options available beforehand. This will ensure maximum benefit from, and enhance their experience in this very special part of the world.

Del Richards, Fine Feather Tours
Information kindly supplied by Daintree Discovery Centre
Edit This Page
Edit Page Content
Post Comment