Home >
Wet Tropics Management
Click on Map Icons to View More Info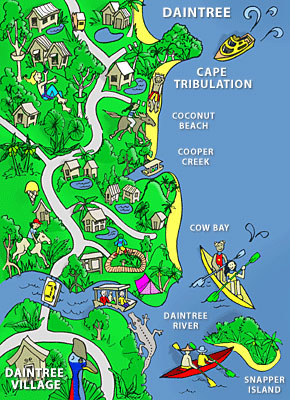 Top 10 Articles
4WD Safaris
Accommodation
Be Cass-o-wary!
Bloomfield
Bloomfield Track History
Boris's Bar, Cafe & Restaurant
Bruce Belcher River Cruise
Bug & Butterfly Museum
Butterflies
Cafe on Sea
Daintree Region Guide
Click Images to view gallery for this subject

wet tropics management

stretches between townsville & cooktown

living museum

wet tropics animals astound

pygmy possum

66 species only found in wet tropics

ancient ferns

Wet Tropics Management
Updated: 23-May-2007
Step into a Wet Tropics rainforest and you enter a living green museum...
Management of the Wet Tropics Area is the responsibility of the Wet Tropics Management Authority, a Cairns-based agency funded by the Queensland and Australian Governments.
The Wet Tropics World Heritage Area stretches between Townsville and Cooktown in northern Queensland. It contains some of the most beautiful and dramatic landscapes in Australia. It consists of 894,420 hectares of tropical rainforest, open eucalypt forests, swamps and mangrove forests. Covering just 0.12% of the continent, the Wet Tropics is one of the most diverse regions of Australia. The forests here are a living museum of ancient species and a record of the major stages in the earth's evolutionary history.
Rainforest Aboriginal culture
Although not listed for its cultural values, the Wet Tropics is recognised as a living cultural landscape for 18 Rainforest Aboriginal tribal groups. Their lives, customs and beliefs are intricately entwined with the plants, animals, waterways and seasons of the tropical rainforests.
The Wet Tropics has provided food, shelter, medicine and a way of life to many generations of Rainforest Aboriginal people. As the Traditional Owners of the Wet Tropics they are also the guardians of their culture. Please respect traditional customs and culturally sensitive sites when sharing the World Heritage Area with visitors.
Animals
One of the major drawcards of tropical north Queensland is the abundance of wildlife found here. From the tiny pygmy possum to the magnificent cassowary, Wet Tropics animals abound and astound. At least 663 land-based vertebrate species have been recorded here – 32% of Australia's vertebrate animals. This includes 66 species that are only found in the Wet Tropics region.
The Wet Tropics boasts:
34% of Australia's mammal species
40% of its bird species
28% of its frog species
20% of its reptile species
42 % of its freshwater fish species and
60% of its butterfly species.

Plants
From microscopic mosses to giant kauri pines, the Wet Tropics World Heritage Area possesses over 2,800 known species of plants. It also has the highest concentration of primitive plant families on earth.
Found in the Wet Tropics are:
65% of Australia's fern species
21% of its cycad species
37% of its conifer species
30% of its orchid species.
To be inscribed on the World Heritage list a place must have outstanding universal value above and beyond its significance for a particular nation. World Heritage sites are important to all the peoples of the world.
The Wet Tropics was inscribed on the World Heritage list in 1988 because:
It is the oldest continually surviving tropical rainforest on earth.
It has Australia's greatest diversity of animals and plants.
It protects areas where rare and threatened species still survive.
It contains areas of exceptional natural beauty.

For further information please visit: www.wettropics.gov.au
Edit This Page
Edit Page Content
Post Comment