Click on Map Icons to View More Info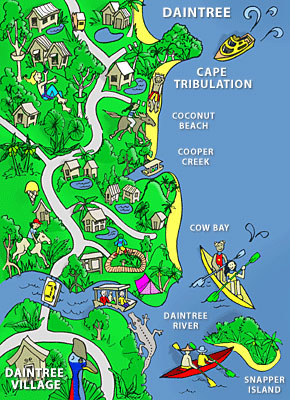 Top 10 Articles
4WD Safaris
Accommodation
Be Cass-o-wary!
Bloomfield
Bloomfield Track History
Boris's Bar, Cafe & Restaurant
Bruce Belcher River Cruise
Bug & Butterfly Museum
Butterflies
Cafe on Sea
Daintree Region Guide
Click Images to view gallery for this subject
Daintree River
Updated: 10-May-2007
Two major rivers define the two access points to the Daintree Cape Tribulation Rainforest, the Bloomfield in the north and the Daintree in the south. The southern access at the Daintree River is the major point of entry.

The Daintree River Ferry, 50km north of Port Douglas, is the only way to cross the river.

It operates on a cable system and is capable of taking up to 16 vehicles across the river at a time. The trip from the south bank to the north bank of the river takes about 5 minutes.

The Daintree Ferry makes its first crossing for the day at 6:00am until midnight, seven days a week. This is the only cable ferry operating in a World Heritage area in the world.
Passing over the crocodile infested river is a symbolic entry into the beautiful tropical forest.

The Daintree River rises in the rugged surrounding ranges, and winds its way down to reach the sea. Here in the headwaters and estuary, rich in mangroves and lush swamp forest, can be found rare and prolific bird life, plants, frogs and insect species.


The river supports saltwater and freshwater marine life, including the saltwater crocodile. There have been numerous reports of deaths in the Daintree River from crocodile attacks, so it is important not to step close to the riverbank and absolutely never swim in the river.
The mouth of the Daintree River opens onto a giant sandbar that shifts with each changing tide. Due to the ever-shifting deep centre of the sandbar, entering the Daintree River has always been a problem for ship captains.

The river winds through thick mangrove swamps where the water remains very salty. As it progresses through the rainforest, the water turns fresh. At this section, an abundance of wildlife congregates, particularly fish. It is a bird spotters paradise, home to a dazzling array of tropical life.
The best way of seeing and understanding the river's eco systems and wildlife is to take a cruise.
There are many Daintree River tours to choose from, run by the locals who know the area inside out. The best river tours are the ones that capture the ambience of a tropical river system during early morning or at dusk. Some river trips specialise in wildlife at dawn and others concentrate on fishing and photography.
The river trips usually take about an hour, and are the perfect introduction to the unique wildlife of the Daintree.


Edit This Page
Edit Page Content
Post Comment