Home >
Daintree Rainforest Review
Click on Map Icons to View More Info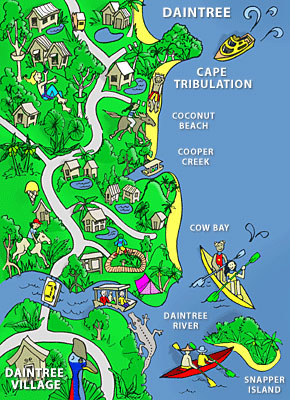 Top 10 Articles
4WD Safaris
Accommodation
Be Cass-o-wary!
Bloomfield
Bloomfield Track History
Boris's Bar, Cafe & Restaurant
Bruce Belcher River Cruise
Bug & Butterfly Museum
Butterflies
Cafe on Sea
Daintree Region Guide
Click Images to view gallery for this subject
Daintree Rainforest Review
Travellers Tale!
Submitted By: Sue Fuller - Australia
Updated: 07-May-2007
It's a little known fact that the Daintree Rainforest, an ancient World Heritage-listed wonderland in our own backyard, is older than the Amazon.
Every year, several hundred thousand people from around the world make sure the Daintree is on their travel itinerary, but this most magical of ancient rainforests is a great drive destination and is still a well-kept secret from many Queenslanders.
It's here the velvety green mantle of the forest slopes plunge to the aqua waters of the Great Barrier Reef Marine Park, where fringing reefs grow almost to the shore. No where else in the world can you experience these two natural wonders side by side - where World Heritage-listed reef and rainforest actually meet.
The Daintree Village, just an hour-and-a-half drive from Cairns or 45 minutes from Port Douglas, is the perfect base from which to explore the region.
From the village, the wonder of the Daintree and Cape Tribulation is on your doorstep. There are flora species that have survived almost unchanged for 110 million years. Indeed, these rainforests actually contain several of the first flowering plants (called angiosperms), which were the origins of all plant life.
No great shakes in the botanical department, I was lucky enough to hook up with one of the region's great characters, Dan Irby. One of the most magical ways to experience the Daintree is with Dan Irby's Mangrove Adventures . At sunrise and sunset, Dan runs small, personalised tours of the Daintree River, focusing on the area's natural history. Dan has years of experience in medical and zoological research. His passion for the Daintree is absolutely infectious and we were soon enthusiastically croc spotting, bird watching and learning about the unique flora and fauna.
You can make your own way into the Daintree via the Daintree Ferry. It's the only cable ferry in tropical Australia, and drops you on the southern part of the lowland Daintree Rainforest. The ferry operates from 6:00am to midnight every day, and the cost for a standard vehicle is $20 return.
There are plenty of day trips and activities to choose from including Aboriginal-guided rainforest walks with the local Kuku Yalanji people, river wildlife cruises, guided bird spotting, Cape Tribulation safaris, river fishing, horse riding and bike riding, exploring secluded beaches and 4WD safaris.
Cooper Creek Wilderness offers guided day and night interpretive rainforest tours. Or you can tackle the tracks on your own on the Marrdja Boardwalk, a 1.1km loop which takes 30 minutes.
You don't need a champagne budget to explore this beautiful region. It's one of the best driving adventures around and it's right on our doorstep.

Edit This Page
Edit Page Content
Post Comment