Click on Map Icons to View More Info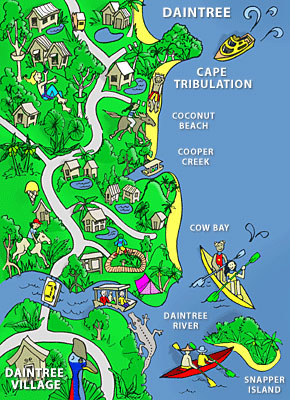 Top 10 Articles
4WD Safaris
Accommodation
Be Cass-o-wary!
Bloomfield
Bloomfield Track History
Boris's Bar, Cafe & Restaurant
Bruce Belcher River Cruise
Bug & Butterfly Museum
Butterflies
Cafe on Sea
Daintree Region Guide
Click Images to view gallery for this subject
Daintree Beaches
Updated: 23-Mar-2007
The beaches of the Daintree Rainforest are rated among the most spectacular in the world - golden sand, calm blue water and mostly deserted. They are pristine.

One of the most wonderful features of Daintree beaches is the lack of people. Stretching for miles, you can cast your eyes along the golden sand and not see a single soul.

The Cape Tribulation coastal strip offers secluded swimming bays and long expanses of sandy beaches for leisurely walks. If you stand in the water you can view the undisturbed coastline, a rainforest backdrop with steep ranges and luxuriant foliage.

Beach swimming is seasonal. From about November to April marine stingers inhabit the area. They are not easily seen, as some stingers are just the size of a thumbnail, but they can cause painful and even life threatening injuries. Visitors are advised to stay out of the water completely during these times.

Swimming at this time of the year is generally limited to natural water holes, swimming pools and reef trips where the boat is at least 15 kms off the coast.
Cape Tribulation Beach is the showcase beach of the area. Protected by the Cape Tribulation headland, the water here is almost always calm and crystal clear. Tourist operators visit this beach every day of the week, so there are often many people here.

Coconut Beach is accessed through a resort, but can also be reached slightly further south of the resort from the main road. It is 2 kms south of Cape Tribulation, and has a large reef that lies offshore. The depth of water drops significantly at the edge of the reef, making this a good fishing location. You can walk north along the beach to the river mouth of Myall Creek, but do not cross - as large crocodiles live here!

There are normally very few people at Emmagen Beach, so you can pretend to be Robinson Crusoe. Looking out to the Coral Sea, it is easy to imagine that you are alone in the world.

A little further along the road is Donovans Beach. It's too far to walk from accommodation in the Daintree Rainforest, so you'll need a car or bicycle to reach it. To reach Donovans beach, turn off a dirt track near Emmagen Beach and follow it for about 200 metres. There have been sightings of crocodiles on this beach, and as a result only brave people visit it.

Noahs Beach has a camping ground, which is frequently occupied. A self-registration booth is located at the entrance to the park, and guests must complete a permit form a pay a small fee to the collection box. Rangers do make periodic trips to the park to check that visitors are using the facilities in an orderly manner.

Edit This Page
Edit Page Content
Post Comment