Home >
Healing Waters Spa
Click on Map Icons to View More Info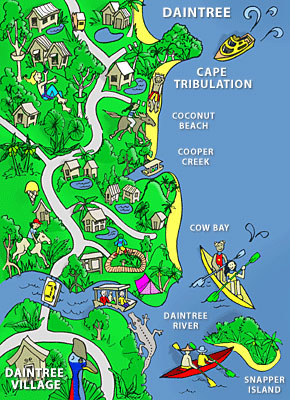 Top 10 Articles
4WD Safaris
Accommodation
Be Cass-o-wary!
Bloomfield
Bloomfield Track History
Boris's Bar, Cafe & Restaurant
Bruce Belcher River Cruise
Bug & Butterfly Museum
Butterflies
Cafe on Sea
Daintree Region Guide
Click Images to view gallery for this subject

healing waters spa

lounge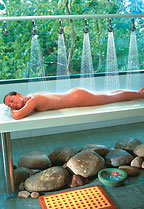 Immerse yourself in the tranquil and luxurious surroundings

australian natural spa care products
Healing Waters Spa
Updated: 01-Apr-2007
Set in lush tropical gardens, the Healing Waters Spa at Silky Oaks Lodge has been inspired by ancient wisdoms that celebrated water as a renewing and life-giving force.
Drawing on the spirit of the Daintree - the oldest living rainforest on Earth - the Spa is designed with renewal, vitality and well-being in mind and offers a range of signature treatments based on a tradition of healing that is centuries old.
The Healing Waters Spa is located in an area that resonates with ancient ceremonies and whispers of sacred healings. Welcomed by the serene river and lush greenery, guests are encouraged to journey tranquil garden paths to the Healing Waters Spa and its promise of rest and rejuvenation.
The landscape and rainforest plays a vital role in the spiritual life of the Aboriginals of the Mossman Gorge region. The landscape itself was revered, with the spiritually charged energies of the rainforest held in the highest regard. The local indigenous peoples - the Ku Ku Yalanji - were known to gather medicinal plants from the area and bath in the river they called 'the healing waters'.
The treatments at the Spa have also evolved from the landscape. The power of the Mossman River's mineral-rich waters and the flower and plant essences of the living rainforest are distilled into signature therapies which are designed to invigorate the mind and body and energise the spirit.
A variety of treatments using all Australian natural spa care products from Sodashi and Li'Tya. Sodashi, a premium face and body care range focuses on 'wholeness, purity and radiance' to relax and restore whilst Li'Tya products draw on the ancient knowledge of the Aboriginal people to nurture and heal.
Advanced bookings are recommended prior to check-in.
Edit This Page
Edit Page Content
Post Comment