Home >
Self Drive Overview
Click on Map Icons to View More Info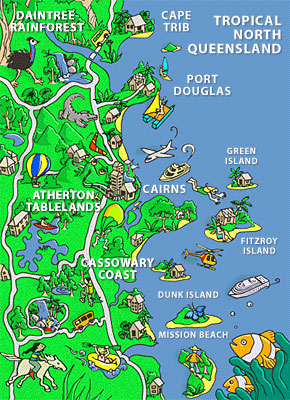 Top 10 Articles
4WD Safaris
Accommodation
Be Cass-o-wary!
Bloomfield
Bloomfield Track History
Boris's Bar, Cafe & Restaurant
Bruce Belcher River Cruise
Bug & Butterfly Museum
Butterflies
Cafe on Sea
Daintree Region Guide
Click Images to view gallery for this subject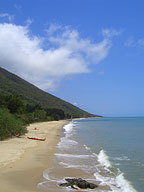 VIEWS OF ELLIS BEACH FROM THE COOK HIGHWAY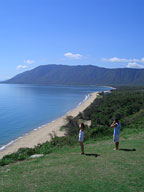 REX LOOKOUT 20 MINS SOUTH OF PORT DOUGLAS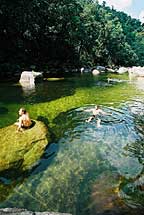 MOSSMAN GORGE

DAINTREE RIVER

big barrramundi at daintree village

DAINTREE RIVER FERRY
Self Drive Overview
Updated: 30-Apr-2009
Treat yourself - stay a few days - and fall in love with the place!
The Cook Highway north of Cairns offers beautiful scenery ranging from secluded palm fringed tropical beaches, hidden coves and rugged headlands to the rich green of lush sugar-cane fields and rainforest covered mountains. This spectacular one and a half hour drive to Daintree Village takes you through the coastal villages of Ellis Beach and Wangetti to Rex Lookout, for a sweeping view south along the coast to Cairns that simply must be photographed.
It is around a thirty-minute drive north of Port Douglas to Mossman, a pleasant little town set amongst the lush cane fields. Mossman Gorge is a must stop for all trips heading up to the Daintree and Cape Tribulation. The highway leaves the coast at Wonga Beach for a 15-kilometre drive through the forests of the Dagmar Ranges, and then into Daintree Village.
Public transport is limited throughout the Daintree region, so visitors not having their own transport should consider hiring a vehicle from one of the many car-hire companies in Cairns or Port Douglas.
The Daintree Ferry provides access into the Cape Tribulation area. This is accessible by conventional vehicles except during periods of heavy rain. The road is sealed as far as Cape Tribulation. Crossing the Daintree River via a vehicular ferry is an experience not to be missed. This ferry operates from 6am to midnight each day.

After crossing the Daintree Ferry you travel through lowland and tropical rainforest passing road junctions for Cape Kimberley and Cow Bay.
There are some excellent coastal views and several tourist attractions. The road runs over several high capes and alongside attractive beaches. Camping spots and accommodation are available. A small general store is located at Cow Bay. Limited fuel access is available.

Vehicle users can be assured that a 4WD is not required to drive through the Daintree Rainforest, however the Bloomfield Track which begins at the northern side of the rainforest, is suitable only for 4WDs.
The Bloomfield Track links Cape Tribulation and The Bloomfield River. It is a true 4WD Track as there is very little gravel on parts of the surface, unimproved creek crossings, steep climbs and decents, lots of mud and plenty of opportunity to get stuck if it is wet. The actual condition of the road varies enormously, and it can be anything from an easy drive, to almost or completely impassable.
Drive Guidelines:

Please drive safely and carefully while in the area. If you wish to stop, pull over and park safely, not on the road. Sometimes it is safer to walk back to the attraction.

It is safe to drive at night, providing you obey the speed limits and keep a sharp lookout for wildlife. Wildlife is usually only killed by speeding drivers. Please respect private property while in the area.

During heavy rain, water does run over the road. Please be careful and check the depth before crossing. The water usually recedes quite quickly once the rain has stopped.
Need a car? Visit www.hirecarscairns.com.au for best rates!
Edit This Page
Edit Page Content
Post Comment