Click on Map Icons to View More Info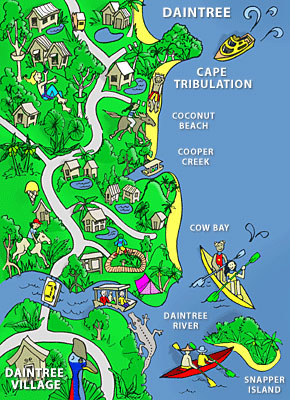 Top 10 Articles
4WD Safaris
Accommodation
Be Cass-o-wary!
Bloomfield
Bloomfield Track History
Boris's Bar, Cafe & Restaurant
Bruce Belcher River Cruise
Bug & Butterfly Museum
Butterflies
Cafe on Sea
Daintree Region Guide
Click Images to view gallery for this subject
Bloomfield
Updated: 17-Apr-2007
The Bloomfield Track links Cape Tribulation and The Bloomfield River. This famous track is well known since Council Bulldozers pushed it through the Daintree Rainforest, in spite of protesters in 1983.
The Bloomfield Track starts just north of Cape Tribulation, which is itself 36 kilometres north of the Daintree River.

It is a true 4WD Track, as there is very little gravel on parts of the surface, unimproved creek crossings, steep climbs and descents, lots of mud and plenty of opportunities to get stuck if it is wet.
It is possible to self 4WD this track, but if you are an experienced 4WD driver you will know that driving a vehicle in rough terrain takes a great deal of attention and you miss out on experiencing the surrounding scenery.
There are several tours that operate in this area, taking in the spectacular Bloomfield Falls and Bloomfield River, and giving you the opportunity to visit Cooktown in a day.

The track continues for 32 kilometres through rugged terrain to the Bloomfield River, then continuing on through the aboriginal town of Wujal Wujal and through Bloomfield, heading north towards Cooktown. You will marvel at the magnificent scenery in this remote wilderness region.
Cooktown is a beautiful town, unspoiled by mass tourism, and has a rich and exciting history, both Aboriginal and European.

Bloomfield Lodge nestles within this magnificent rainforest ecosystem on the shores of the Coral Sea. The lodge has been carefully designed to blend into the beauty of the rainforest, while views out over the blue waters of Weary Bay are a reminder of its coastal location.
Accommodation is in natural timber cabins of various shapes and sizes. All are elegantly furnished and located on sites carefully chosen to make the most of the views and quirks of the landscape.

There are a maximum of 34 guests - no pressures, dress codes or formalities, just time to enjoy a unique and relaxing experience in the Tropical Rainforest on the shores of the Coral Sea.
Edit This Page
Edit Page Content
Post Comment