Daintree Crocodylus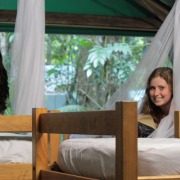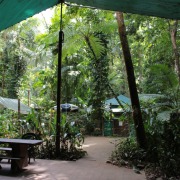 Daintree Crocodylus
Eco safari cabins set within Rainforest
Immerse yourself in the rainforest
Abundant wildlife | Safari huts
FROM $25 PER NIGHT
---
Inc. all levies & taxes

Daintree Crocodylus Info
CROCODYLUS:

For Eco friendly accommodation that is comfortable, and won't break the budget, Crocodylus is perfect. Situated at Cow Bay, just north of the Daintree River, Crocodylus Village offers a range of safari tent style accommodation where you can immerse yourself in the Rainforest.
What makes it Great?
Ideal location to explore Cape Tribulation
Friendly, relaxed atmosphere
Self-guided rainforest walks
Orientation pack on arrival
Kingfisher Cafe & Gecko Bar
Authentic rainforest experience
Crocodylus Facilities Include:
Shared Shower and Toilet Block
Coin Operated Laundry
Ironing Facilities
Secure Safe for guest's belongings
Phone - there is no mobile coverage in the Daintree
Internet facilities
Book swap
Free Off-Street Parking
Bike Hire
Swimming Pool
Kids Club (Australian July school holidays only)
Games Area – snooker, darts, board games
Masses of Eco and Rainforest Info
Small general store
Central living area
Safari Tent Facilities include:

With the environment in mind the tent huts have been delicately built off the ground and spaced out amongst the dense tropical rainforest. Tents are designed with canvas walls, high ceilings to catch the natural breezes, insect protection to ensure the locals are kept out, and large open spaces to give you room to move.
All Safari Tents include:
Cooling fans
Linen & Towels
Mosquito Nets*
Outdoor Table & Chairs
Additionally:
Multi-share Dorm Share Huts (max 4)
Perfect for backpackers. Each rooms features a max of four beds (2 bunks) and opens onto their very own rainforest verandah. Toilet and shower facilities are available in the shared amenities block. Dorms do not have mozzie nets, however the rooms are insect protected. *


Jungle Double/Twin (max 2)
Private Safari tents with Doubles or Twin Beds. Tents feature mozzie nets, a shared verandah and use of the shared facilities.

Tropical Cabin Ensuite Huts (max 2)
Nestled under the undisturbed rainforest canopy and with only one common wall, Tropical Cabins are perfect for a couple. Each cabin has a Double Bed, Private ensuite and private verandah.

Rainforest Bungalow Family Huts (max 8)
Set individually within the rainforest with no common walls, Rainforest Bungalows are perfect for a large family. Each bungalow has its own bathroom facilities and a large private verandah with tables and chairs. Bedding consists of 1 Double Bed and 3 Bunk Beds.
Dining Options:
Self-Catering Kitchen:
The self-catering kitchen has everything you need to prepare all your own meals. (There are no ovens). Crockery, cutlery, pots, pans, fridges, gas cooker, BBQ, microwave, kettle, fridges and freezers and lots more.
Kingfisher Cafe:
Open for breakfast and dinner every day with loads of fresh and tasty tropical fare that will tantalise your taste buds but won't break your budget.
Gecko Bar:
Is fully licensed with plenty of exotic cocktails and local brews to keep you well watered and your thirst at bay.
General Store:
With no supermarkets north of the Daintree River, there is a small range of groceries, fruit and veggies, toiletries and IT needs just in case you forgot something. There is a general store just up the road about 10mins drive north.
What you need to know:
Fully licensed and not BYO so alcohol must be purchased on the premises only
There is no mobile coverage in the Daintree
Crocodylus is powered by Generators.
Crocodylus is all about the Rainforest experience. Expect to see lots of bugs and spiders!!

There are no power outlets and or fridges or tea/coffee making facilities in the bungalows - these are all provided in the communal area
Activities:
There are swimming holes, self-guided rainforest walks, isolated beaches and many places of interest within walking distance of Crocodylus. Why not combine your Crocodylus stay with an overnight Sea Kayaking experience? Click here for more info.

Location:

Crocodylus is a 2.5 hour drive (122km) north from Cairns by private car. Cross the Daintree River by ferry, head north over the Alexandra Range for 14 km, then turn right into Buchanan Creek Rd. Crocodylus Village is 2 km from the turnoff. Crocodylus is accessible all year round by conventional vehicles. Cow Bay Beach is about 3km drive or a 40 minute walk.

GREAT NEWS! All payments made to Travstar do not incur a credit card surcharge

Guest Reviews
Very friendly
Posted By Anne-Katrin Oatley
Wonderful natural setting
Very helpful staff. Lovely food. Good night time tour by Possum. Downside, very dark cabins.
Wonderful natural setting for viewing the rain forest.
Posted By Brian Cranstone-Hunt
A great experience of getting close to nature.
A great experience of getting close to nature. The whole family loved it.
Posted By Carolyn Robinson
we found the place very interesting
we found the place very interesting but didnt realise it was a yha, so was a bit surprised about that, so felt that $95 was a bit much for a glorified tent! bit chilly this time of year! would have been a suitable price to split the cost between a larger group, but felt it was a bit over priced. but besides that it was an experience.
Posted By Jennifer Cooke
wonderful experience
Thank you for providing excellent service while planning my trip to Cairns and Daintree rainforest. Your upto date information/knowledge of resorts, amenities in the resorts, local weather, getting around and local attractions helped me a great deal. It avoided any unpleasant surprises during my trip. The prices offered by you are very competitive and helped me to keep my trip within the budget. All in all it was a wonderful experience booking my holidays with you with a complete satisfaction on quality and price.
Posted By Bipin Sumant
Very unique accommodation
Very unique accommodation in the rainforest and mostly nice staff. The night walk guide was superb.
Posted By C Whittaker
fabulous location
Mosquito nets on single beds and bunks would be nice, as I ended up sharing a double bed with my teenage son. Not ideal. Other wise great place, great hosts, fabulous location, really tasty and hardy meals.
Posted By Kerrie Hamilton
right in amongst the rainforest
A nice hostel located right in amongst the rainforest. Good food, good service and a great setting.
Posted By Martin Middleton
Loved the setting
Loved the setting, good wholesome cheap meals provided too.
Posted By Rebecca Ash
right in the rainforest
Fun to stay right in the rainforest where just the thin tent mesh divides you and the rainforest. Could do with a bit of TLC though.
Posted By Emma Walton
Great find
Great find in the middle of the rainforest. Fitted in well with the environment and all great staff. Thanks - Ceri, Robbie & Ryan Weeks
Posted By Ceri Weeks
service is friendly
The lodging is very basic, but bathrooms are spotless clean and the food is a real surprise, simple dishes but like home made and nice desserts too. The service is friendly and you can find there all you need from internet to bykes including competent no fuss help and medication if your son runs into a wait-a-while...

Posted By Maria De Nobili
TWO cassowaries
The big surprise was the Crocodilus Village, which we had booked only as the starting point for the canoeing trip.

The rainforest there and along their "orange rope walk" is better preserved than in all other visitable sites of the area (and we happened to see most of them), with thick large mature trees that dwarf the cabins... just think that ten minutes after we dropped in, TWO cassowaries (!! aren't they supposed to be lonely animals?) passed less that 5 metres from the front door of our cabin.

The lodging is very basic, but bathrooms are spotless clean and the food there was a real surprise, simple dishes but like home made and nice desserts too.

Posted By Prof. Maria De Nobili
Daintree Crocodylus Rates
Need Help With Your Booking?
Our Cairns Office is open again in 21 hours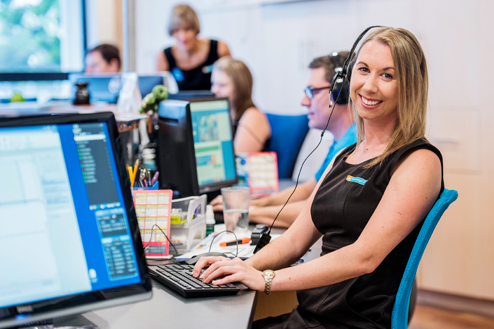 About Travstar Booking Requests
There are some things a computer can't do.
We love helping people plan their holidays and we want to make sure we get it right.
Some holiday packages can be quite complicated with multiple tours and accommodation, pick-up times and extras.
That's why every booking made through a Travstar Website is checked by our local consultants.
It takes a little bit longer to get your tickets but we want to make sure everything is going to run smoothly for you.
How long wil it take to get my tickets?
Our team are alerted to new booking requests as they come in. During office hours you can expect to have your tickets within an hour or two.
After office hours your tickets may take up to 12 hours to arrive.