Accommodation Specials!





The Port Douglas and Rainforest Escape is perfect for couples. From Australia's finest beachfront oasis to rare Rainforest wilderness your six night getaway will be a magnificent tropical experience.
7 Night Luxury Package
* 4 nights Sheraton Mirage
* 3 nights Silky Oaks Lodge
* Full Breakfast Daily
* River canoes & mountain bikes


save $1664


Stay between now and 31/March/2019





Luxury Eco Nature Escape includes 3 nights of absolute luxury in a Treehouse at Silky Oaks Lodge and a day under the warm tropical skies exploring beautiful coral gardens on the Quicksilver Outer Barrier Reef.
RAINFOREST & REEF
3 NIGHTS SILKY OAKS LODGE
*FULL BREAKFAST DAILY
*QUICKSILVER OUTER REEF
*SEMI SUBMARINE
*GLASS BOTTOM BOAT



3 NIGHT PACKAGE
SAVE $386

Stay between now and 31/March/2019





Wait-a-While is a stunning, secluded pole framed timber house in the heart of the Daintree Rainforest
Sleeps up to 9 people
*3 BEDROOM HOLIDAY HOUSE
*SELF CONTAINED
*STUNNING POLE HOUSE
*500 SQUARE METRES
*INTERNET

DAINTREE HOLIDAY HOUSE
SAVE UP TO $780

*Pet friendly
Stay between now and 31/March/2019





6 NIGHT BACKPACKER CIRCUIT Non-stop thrills on the reef and rainforest, this popular package is fantastic fun and a budget saver! Canoe in jungle crater lakes, snorkel the reef and spot turtles...
- 1 night Cape Tribulation
- Mossman Gorge
- Daintree River Cruise
- Evolution Outer Reef
- Swim in Waterfalls
- 1 night Yungaburra
- Canoe & Mountain bike
- 4 nights Gilligans, Cairns

Based on Dorm Share
Stay between now and 31/March/2019
Viewing 1 to 8 of 8 properties
Page 1
Ferntree Rainforest Lodge

Budget Resort set within tropical gardens
Continental breakfast daily
Ideal for families
Popularity

Service

Value

Overall

Based on 37 ratings
Ferntree Rainforest Lodge
is set back in the heart of a lush rainforest, guests are a short stroll from the beach and spectacular mangrove boardwalks. The Rainforest Lodge features low, pitched buildings that are set harmoniously within a dense, green landscape.
...
more info
Heritage Lodge & Spa

Rainforest Cabins
Kids stay and eat FREE
Continental breakfast daily
Popularity

Service

Value

Overall

Based on 15 ratings
Heritage Lodge & Spa
is set within the world's most ancient rainforest. Extensively renovated to a 3 ½ star hotel including light breakfast daily. Swim with jungle perch and turtles and breathe the clear pure air of the Daintree. Sit back, relax and experience nature at its best. ...
more info
Daintree Crocodylus

Eco safari cabins set within Rainforest
Immerse yourself in the rainforest
Abundant wildlife | Safari huts
Popularity

Service

Value

Overall

Based on 22 ratings
Daintree Crocodylus
is a truly unique resort where families, couples or singles can experience the jungle up close and personal. A true ECO adventureland set right under the rainforest canopy. All accommodation is safari tent style......
more info
Wait-a-While in the Daintree

Stunning Timber Pole House with Pool!
Huge Pole House | Swimming Pool
Walk to Beach | Can sleep 9
Popularity

Service

Value

Overall

Based on 10 ratings
Wait-a-While in the Daintree
is a stunning pole framed timber house offering private and secluded accommodation for a larger family right in the heart of the Daintree Rainforest. A Billiard Table and Swimming Pool as well as huge entertainment area make for a very enjoyable stay. ...
more info
Cape Trib Beach House

The ONLY Beachfront accom. in Cape Trib
Beach cabins & share rooms
Rainforest Pool, Bar & Bistro
Popularity

Service

Value

Overall

Based on 46 ratings
Cape Trib Beach House
is located right where the rainforest meets the reef. It makes the perfect base to explore the wonders of reef and rainforest. Here you will find a variety of accommodation options including Rainforest dorm rooms with 5 single beds through to private cabins and family rooms. ...
more info
Cascades Roundhouse

Two Bedroom Holiday House
360 degree views of the rainforest
Private Creek with waterfalls and Natural Spa
Popularity

Service

Value

Overall

Based on 6 ratings
Situated perfectly alongside the spring fed creek, The Round House has a 360 degree view of the rainforest and surrounds, and with native fauna moving throughout the property this is an advantage as you sit and unwind into your holiday...more info

Tea Tree Cottage

Tea Tree Cottage
Elevated 2 bedroom Pole House
Sleeps 5 people
Popularity

Service

Value

Overall

Based on 2 ratings
Tea Tree Cottage Daintree is an elevated, pole-framed house, nestled in the foothills of the majestic Thornton Peak. This 2 bedroom cottage features wide verandahs and elevated tree canopy views. A perfect base to explore the Daintree Rainforest. Located midway between the Daintree River and Cape Tribulation (20 mins north), in an area of the Daintree Coast renowned for its biodiversity and uniqueness as a refuge for rare, ancient and endemic flora and fauna. Quiet, secluded and pristine beaches nearby.


...
more info
Daintree Magic

3 Bedroom Luxury Timber Cottage
Spectacular Ocean Views | Ferry tickets inc.
Close to beach | Spa on Verandah
Popularity

Service

Value

Overall

Based on 3 ratings
Daintree Magic
is a luxury 3 Bedroom timber cottage with a spa and hammock on the wide verandah overlooking the Coral Sea. With spectacular ocean views, it is just a short stroll to Cow Bay beach...
more info
Viewing 1 to 8 of 8 properties
Page 1
Family Friendly

The World Heritage listed Daintree Rainforest is the place to visit if you are after a holiday experience like no other. A world of exploration and adventure awaits! The Daintree Rainforest provides a wonderful learning opportunity and appreciation for families and children of all ages, where you can embrace the magic of the rainforest and its native wildlife. Without the convenience of mobile phone and tv coverage, this back to nature experience allows families to take time out and reconnect to nature. Children are encouraged to explore their natural environment, connecting with the sights and sounds. Whether you're looking for something fun to do over a weekend, or an outing for the school holidays, the Daintree Rainforest is full of activities and adventures...getting there is all part of the fun!
Getting There

Public transport is limited throughout the Daintree region, so we highly recommend hiring a vehicle and self driving. This will give you the flexibility to explore the region at your own pace. You will find the majority of attractions and activities are well spread out between the Daintree River and Cape Trib Beach. Drive time from Cairns to Cape Tribulation is two and a half hours, so self driving will allow you to make any necessary stops along the way as the drive can be quite long especially travelling with young children. Good rest stops along the way include Rex Lookout, Port Douglas and Mossman Gorge. Don't forget any final supplies can be picked up from Mossman town.
Daintree Ferry

The Daintree ferry connects this scenic adventure to the heart of the Daintree Rainforest and Cape Tribulation. This is the only cable ferry operating in a World Heritage area in the world. Up to 16 vehicles cross the river at a time, which is operated by a cable system. It makes continuous crossings of the Daintree River throughout the day, averaging more than 100 crossings a day, and travelling over 10,000km each year along the wire rope. The ferry operates 6.00am until midnight every day with a reduced service on Christmas Day. It is just a short 5 minute crossing, and a fee is payable to use the ferry service prior to boarding. Check out the model of the Cassowary and the chicks before boarding. Esturine crocodiles inhabit the Daintree River, so heed the warnings and do not get too close to the waters edge. After crossing the Daintree Ferry you will travel through lowland and tropical rainforest passing road junctions for Cape Kimberley and Cow Bay.
Budget Accommodation

For families on a budget the Daintree is an inexpensive getaway; basic accommodation really puts you back in touch with nature and allows you to appreciate the simple things in life, and the rainforest itself is an adventure wonderland with plenty of things to see and do. Crocodylus Kids will love Crocodylus, set in the heart of the Daintree Rainforest.
Accommodation is built safari hut style bungalows and nestled deep within Crocodylus own 21 acres of rainforest. The wooden and canvas bungalows are have canvas walls, high canvas ceilings to catch the natural breezes, insect protection to ensure the locals are kept out, and large open spaces to give you room to move. These open plan bungalows can sleep up to 8 people, perfect for a large family or a couple of smaller ones, each featuring its own bathroom facilities.Dining options include the Kingfisher Café, open for breakfast & dinner, or you can choose to self cater in the fully equipped self catering kitchen.There are many activities that take place on-site at Crocodylus, to keep the kids amused and gain the most out of this rainforest experience.There is a swimming pool, games area including board games, darts and snooker, self guided rainforest walks, guided night walks and masses of rainforest info. This is a real jungle experience!
Find out more:
Crocodylus Village


Holiday Homes

Holiday homes are an ideal option for families who are looking for home comforts, privacy, an exclusive stay in the rainforest or ideal for larger families as some homes can sleep up to 9 people so it can work out quite cost effective too. This is a rainforest experience like no other. The area north of the Daintree River has no grid power so residents must generate their own electricity. Good design is essential not only for climate management but also the ecological values of the World Heritage rainforest.
Wait a While in the Daintree is a stunning pole framed timber house offering private and secluded accommodation for up to 9 guests right in the heart of the Daintree Rainforest, and only 600 metres from the picturesque Cow Bay Beach. Facilities include a fully equipped kitchen & laundry, all linen & pool towels, telephone, tv, internet and BBQ facilities. Daintree Magic is an exclusive timber holiday cottage set right in the heart of the World Heritage Daintree Rainforest. It is the closest accommodation to Cow Bay Beach and the perfect place to escape and relax and unwind in comfort and serene surroundings. The luxury timber cottage is elevated to maximise the prevailing sea breeze and sweeping views. The Daintree Roundhouse is located alongside Little Cooper Creek which provides hydro electricity for this self sufficient property.
Find out more:
Wait-a-While in the Daintree
Daintree Magic
Cascades Roundhouse
Things to do:

The Daintree Rainforest is a great place to relax and reconnect with family and friends. With limited mobile phone reception, tv and other conveniences, the Daintree provides the perfect opportunity to turn off all gadgets and go exploring! There are many nature based activities to choose from where you can explore yourself or take a guided tour. Beach walks, rainforest walks and local swimming holes are easy cost free activities you can take at your leisure, anytime. Meanwhile guided night walks, sea kayaking, horseriding, jungle surfing and 4WD add to the sense of adventure, and allow you to view the rainforest from another perspective that not many get to see...
Top 10 things to do for families

1. Spot a Cassowary in the wild
2. Visit the Bat House
3. Go beachcombing at Cow Bay
4. Explore the fringing reef at Coconut Beach
5. Go exploring on a rainforest jungle walk
6. Go for a morning sea kayak
7. Educate at the Daintree Discovery Centre
8. Swim at Masons fresh water swimming hole
9. See all the bugs and critters at the Daintree Entomological Museum
10. Grab a fresh tropical icecream from Daintree Icecream Factory
Beaches

Cow Bay
Cow Bay has been classified as an Outstanding Cassowary Habitat Zone. In the lowlands and swamps of western Cow Bay the population density is as high as the best habitats in Mission Beach. On the way to Cow Bay you can observe the hills of the Alexandra Range (on the right) with its dark rainforest vegetation. The three secluded bays of Cow Bay Beach are perfect for relaxing, swimming and snorkeling on the inshore reefs and also fishing and beach walking. There are always shady spots on these beaches. Guided sea kayaking can be booked locally at Crocodylus Village.
Thornton Beach
Thornton Beach is a great place to walk along the beach, and explore the rugged coastline. It is a really pretty beach, and Thronton Beach Cafe is the ideal spot to enjoy a coffee or bite to eat and make the most of this scenic area.

Coconut Beach
Coconut Beach can be seen from the road and is interesting place to explore at low tide. It features a large fringing reef which is exposed at low tide. The reef has a steep drop off, which provides excellent fishing with handlines at low tide out on the reef edge. You can walk north to the river mouth of Myall Creek, but do not cross - as a large crocodile lives here! You can access Coconut Beach where the road touches the beach.

Cape Tribulation Beach
Cape Trib Beach is a popular spot for day visitors, and it is understandable why; the rainforest sweeps down to the beach and the fringing reefs just offshore. This is an excellent spot for viewing where the two World Heritage Listed Areas lie side by side - the Daintree Rainforest and Great Barrier Reef. The Kulki boardwalk takes you from the picnic area to a viewing platform on the headland which overlooks the ocean, rainforest and beach. Cape Tribulation has toilets and picnic tables. Quite often you can spot lace monitors (Goannas) scavenging around the picnic area for food scraps. Please do not feed these or any other native animals, and keep all food and rubbish secure.
Sea Kayaking

A wonderful way to explore tropical beaches, fringing reef, mangroves and Marine wildlife. Paddle out into the Great Barrier Reef marine park from where you have spectacular views of the Daintree National Park. There is so much to discover out on the water but the most exciting is spotting marine wildlife. Every day is different with wildlife frequently spotted on the kayak tours including sea turtles, schools of fish, sea eagles, dolphins, dugong and sting rays. Seeing this amazing tropical environment from your kayak is a very low impact and eco friendly way to travel through this pristine area.
Find out more:
Paddletrek Morning & Sunset Sea Kayaking
Cape Trib Horserides

Cape Tribulation horse rides caters for beginners, intermediate and experienced riders on a group of very friendly, well trained horses and is the only horse riding available in the Cape Tribulation area. Enjoy the breathtaking Cape Tribulation scenery as you meander through rainforest, paddocks, mountain streams and riverbeds until you reach spectacular Cape Truibulation Beach.
Find out more:
Cape Trib Horserides
Ocean Safari

Join Ocean Safari for an exhilarating ride to snorkel the pristine Great Barrier Reef off the Daintree Coast at Cape Tribulation. Visit two different snorkel destinations on this half day eco tour, each with an extraordinary array of marine life and coral species. Ocean Safari takes a maximum of 25 passengers; the vessel is based on the original design of a rescue craft and is a rigid inflatable boat driven by 700hp engines, getting you to the reef in approx 25 minutes where two fabulous locations at Mackay and Undine Reefs await.
Find out more:
Ocean Safari Half Day Eco Snorkel Trip
Daintree Discovery Centre

The Daintree Discovery Centre is the perfect starting point for visitors to learn about the beauty of the tropical rainforest in the Daintree region. This an award-winning world class interpretive facility that allows visitors easy access to every level of the Daintree Rainforest; from the forest floor to the upper most reaches of the canopy. The Centre features Boardwalk tours, a 23 metre high Canopy Tower, Aerial Walkway and comprehensive Display Centre. A Children's Audio Tour (suit 5 - 9 years) is now available which provides children with an educational insight into the rainforest and wildlife, but in an interesting and entertaining way. Kids will love the interactive touch-screens and poster displays in the interpretation centre, featuring interesting rainforest facts, plus a touch-table full of objects that are often found on a typical forest floor. With a combination of interactive displays, environments and viewing platforms, the kids are learning and having fun at the same time!
Find out more:
Daintree Discovery Centre
Daintree Entomological Museum

If your curious about the strange bugs and butterflies of the world, this is the place to visit, they're all here! The Daintree Entomological Museum and Gallery established in 2003, and houses one of the worlds best private Butterfly and Beetle collections. This beautifully displayed collection of Australian and Worldwide insects has been collected and bred, by one man, Stephen Paul Lamond. It has taken over 40 years to establish this world renowned display. The buildings and cabinets have been designed and handcrafted by Stephen which he now exhibits his life's long work including his personal artwork, breeding houses, live insects, and new local discoveries in the heart of the Daintree Rainforest.
The Daintree Icecream Company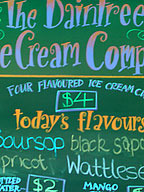 The Daintree Icecream Company is well worth a stop to reward the family after a day of sightseeing in the Daintree Rainforest. This boutique ice creamery is renowned for its homemade tropical fruit ice cream made with the fruits from their own orchard. Flavours vary according to the season which include Black Sapote, Soursop, Wattle Seed, Mango, Passionfruit and Jackfruit. All the ice creams are made on the premises and only fruit in season is used. You can walk around the orchard and discover over 20 varieties of tropical fruit trees that bear the flavours for the ice-cream.
Mason's Swimming Hole

Mason's is the perfect place to grab a bite to eat and a refreshing swim. The Café and Shop is open everyday where you can grab all your basics from the bottleshop and grocery store and cafe. There is a great range of souvenirs and postcards here too. Out the back of the property is a large, natural fresh water swimming hole that you can access off the left side of the shop verandah and cross the footbridge. The path will lead you to the swimming hole. There is also a walk opposite the shop which goes down to the southern end of Myall Beach. A small gold coin donation is always appreciated for their efforts in keeping the swimming hole maintained. The Cape Trib Tourist Information Centre and Shop is situated in Cape Tribulation at 3781 Cape Tribulation Road.
The Bat House

Kids will be amazed after having met one of the more fascinating inhabitants of the rainforest - a flying fox. As rainforest ambassadors, they are unrivalled - friendly, intelligent and definitely with personality plus. These primates are mostly orphaned bats through tick paralysis, in areas of the Atherton Tableland to the west of Cairns. The Bat House provides environmental and tourist information on the region, as well as highlighting the research activities of the Station. Proceeds from the Bat House fund the research activities of the Cape Tribulation Tropical Research Station, feed the resident fox colony and help the yearly rescue of spectacled flying foxes.
Rainforest Walks

Jindalba boardwalk - 650 m return (45 mins) Grade: easy
The Jindalba (meaning 'foot of the mountain') boardwalk explores tropical lowland rainforest. Quiet walkers may be lucky enough to see a tree-kangaroo or cassowary. There is a large picnic area with toilets and tables. Wheelchair access to the creek is from the exit end only, near the disability access parking bays.

Jindalba circuit track - 3 km return (1.5 hrs) Grade: moderate
Near the entrance of the Jindalba boardwalk is the start of the Jindalba circuit track. This forest walk is well marked but is stony in places and crosses rainforest creeks. A reasonable level of fitness is required.

Marrja boardwalk - 1.2 km loop (45 mins) Grade: easy
The Marrja (meaning 'rainforest' or 'jungle') boardwalk allows visitors to experience both rainforest and mangrove communities, without getting muddy. Along the walk learn about the plants found in each of these environments. There are no toilets or picnic areas at this site.

Dubuji boardwalk - 1.2 km loop (45 mins) Grade: easy
The Dubuji (meaning 'place of spirits') boardwalk travels through lowland rainforest swamps and mangroves. Signs explain the survival strategies used by rainforest plants and animals. The site is close to Myall Beach and has large grassed areas with picnic shelters and toilets.

Kulki - 600 m return (10 mins) Grade: easy
Kulki day-use area has a boardwalk leading from the picnic area to a viewing platform overlooking the ocean and beach. A short walk from the Kulki car park takes you to beautiful Myall Beach. Toilets and picnic tables are provided.
Whats Hot!
Travel Tools
Whats Hot!