Click on Map Icons to View More Info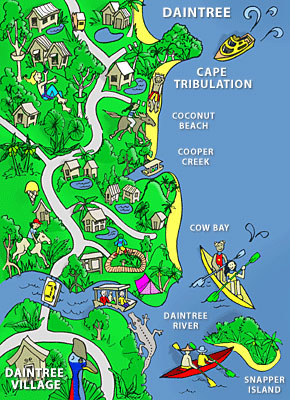 Top 10 Articles
4WD Safaris
Accommodation
Be Cass-o-wary!
Bloomfield
Bloomfield Track History
Boris's Bar, Cafe & Restaurant
Bruce Belcher River Cruise
Bug & Butterfly Museum
Butterflies
Cafe on Sea
Daintree Region Guide
Click Images to view gallery for this subject

big baramundi at daintree village

CROCODILE SPOTTED FROM THE RIVER CRUISE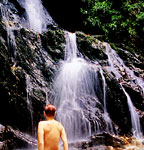 FRESH WATER SWIMMING

DAINTREE ECO LODGE RESORT RESTAURANT
Daintree Village
Updated: 17-Apr-2007
Daintree Village is located on the Daintree River just a one-and-a-half-hour drive north of Cairns. This laid-back little village was originally the base for timber-cutters who came to log the red cedar and today it has a population of around 100 people, including descendants of the original settlers who are now successful beef-cattle farmers.
The Village gave it's name to the famous World Heritage-listed Daintree National Park which stretches in sections between Mossman Gorge in the south to the Bloomfield River in the north. Before the road to Mossman was completed in 1933 the only access to the Village was by the Daintree River.
Tiny Daintree Village has a number of restaurants, galleries and shops selling local arts and crafts. The Daintree River is the place to see a crocodile in it's natural environment and the area is famous as a birdwatcher's paradise – a number of wildlife-spotting cruises depart from the Daintree Village area.
Other attractions and activities in the region include beautiful beaches, Horse Riding, Daintree Mangroves Wildlife Sanctuary, Flower and Fruit Farms, Hoglund glass-blowing Studio, Diane Cilento's Karnak Playhouse, Mossman Golf Club and, of course, the Daintree River ferry to Cape Tribulation (great for a day trip).
Visitors to the region are offered a wide variety of accommodation from famous eco-resorts, B&B's, farm-stays and caravan parks to budget cabins.

Information kindly supplied by:
Daintree Village Tourism Association
www.daintreevillage.asn.au
The Daintree Village Tourism Association is a voluntary body comprising tourism operators and service providers within the travel industry operating between the Daintree River and the Mossman River north of Cairns in Tropical North Queensland.
Edit This Page
Edit Page Content
Post Comment