Click on Map Icons to View More Info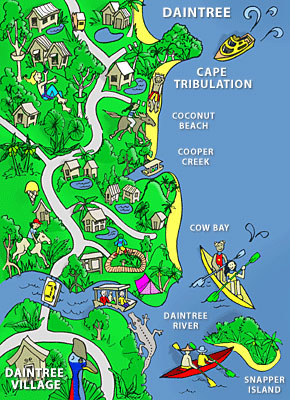 Top 10 Articles
4WD Safaris
Accommodation
Be Cass-o-wary!
Bloomfield
Bloomfield Track History
Boris's Bar, Cafe & Restaurant
Bruce Belcher River Cruise
Bug & Butterfly Museum
Butterflies
Cafe on Sea
Daintree Region Guide
Click Images to view gallery for this subject

Rainforest Rescue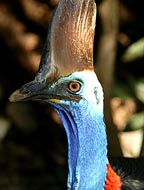 Endangered Cassowary

Daintree Buy Back and Protect Forever Project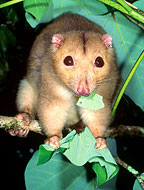 Restoration and Conservation
Rainforest Rescue
Updated: 01-Nov-2007
Nine blocks of rainforest have now been saved from development thanks to an amazing wave of community support for the Daintree Buy Back and Protect Forever Project...
Rainforest Rescue is a not-for-profit organization providing opportunities for individuals, families, organizations and businesses to become involved in successful projects that protect and restore our dwindling rainforests.

Its mission is to save our rainforests for current and future generations. Rainforest Rescue is involved in rainforest restoration and conservation, the purchasing of the property as well as its protection.
One of Rainforest Rescue's most important objectives is the purchase and protection of rainforest blocks in the Daintree that are earmarked for development. This is achieved through the Daintree Buy Back and Protect Forever Project. Once enough funds are raised, Rainforest Rescue searches for a suitable property that meets its criteria, organizes legal searches and proceeds to purchase the property.
The Daintree Buy Back and Protect Forever Project has contributed to the protection of nine properties in the Daintree so far. The first properties protected through the program are in the Cow Bay area of the Daintree. Rather than form a random group of blocks, Rainforest Rescue has purposely bought properties that create a link between two isolated areas of the World Heritage listed Daintree National Park.
One of the species that inhabit the properties is the endangered Cassowary and the protected rainforest will provide a valuable corridor between the areas of the Daintree National Park.
The purchase of the sixth property in the Daintree Buy Back and Protect Forever Project has saved the world's only known site, at the time of purchase, of a species of of the Filmy Fern new to science.

The most inspiring thing is that most of the funds to buy back properties have come from ordinary people – individuals, families, community groups and businesses.
For more information on Rainforest Rescue's projects, or how to become a Rainforest Rescuer please contact 1300 763 611 or visit www.rainforestrescue.org.au
News: 01/11/2007
Rainforest Rescue's planting plans for the upcoming sea
Edit This Page
Edit Page Content
Post Comment