Click on Map Icons to View More Info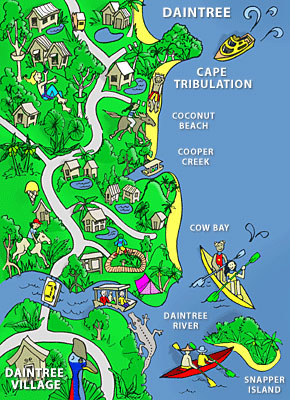 Top 10 Articles
4WD Safaris
Accommodation
Be Cass-o-wary!
Bloomfield
Bloomfield Track History
Boris's Bar, Cafe & Restaurant
Bruce Belcher River Cruise
Bug & Butterfly Museum
Butterflies
Cafe on Sea
Daintree Region Guide
Click Images to view gallery for this subject
PRIMITIVE PLANTs

FERNS AT MOSSMAN
40 SPECIES ENDEMIC TO THE WET TROPICS

large Asplenium nidus

ancient rainforests
Ferns
Updated: 06-Jun-2007
While many of the plants in the rainforest have been around for millions of years, ferns have been around for much longer than that!
The Daintree/Cape Tribulation region is home to over 3,000 plant species including trees, vines, palms, ferns, epiphytes, as well as the world's largest and smallest tree ferns and cycads. Unknown plants and animal species are still being discovered.

Daintree National Park has examples of the most primitive plants and animals in the world, representing major stages in the earth's evolutionary history.

For example, 13 of the world's 19 primitive flowering plant families are found within the Daintree National Park, as well as the world's most primitive pines, cycads, ferns and mosses. Many of these ancient plants provide an insight into the evolution of flowering plants, which began about 120 million years ago.

Ferns first appeared in the fossil record dating back to 325 million years ago. They are one of the earliest vascular plant forms on the planet (plants which circulate water internally) and they preceded the flowering plants, the conifers and even the cycads - all of which have a more advanced means of reproduction.

40 species of ferns are endemic to the Wet Tropics (occur nowhere else) and there are many interesting species but only a few special ones are profiled here.
Rainforest Rescue has recently purchased a sixth property in the Daintree Buy Back and Protect Forever Project which has saved the world's only known site, at the time of purchase, of a species of the Filmy Fern new to science.
The Filmy Fern was first discovered in 1954 however the site was lost or destroyed and it was not rediscovered until 1998. The new site of the fern was however on a freehold property threatened with residential development.

The purchase of the property in the Cow bay area of the Daintree has saved the site, however adjacent properties may still be developed increasing the risk of visitation and damage to the fern.
Edit This Page
Edit Page Content
Post Comment