Click on Map Icons to View More Info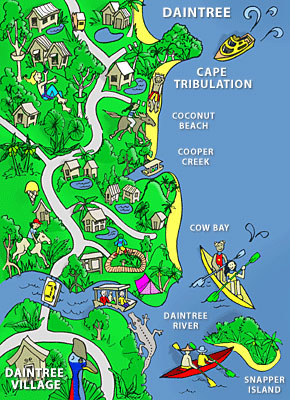 Top 10 Articles
4WD Safaris
Accommodation
Be Cass-o-wary!
Bloomfield
Bloomfield Track History
Boris's Bar, Cafe & Restaurant
Bruce Belcher River Cruise
Bug & Butterfly Museum
Butterflies
Cafe on Sea
Daintree Region Guide
Click Images to view gallery for this subject
The Bat House
Updated: 25-Mar-2007
The Bat House at Cape Tribulation is worth a stop! You will find their little centre opposite the PK's Jungle Lodge.

The Bat House is a volunteer run, accredited Wet Tropics Visitor Centre and is so named because there is always a pet flying-fox in attendance. It provides environmental and tourist information on the region, and on the research activities of the Cape Tribulation Tropical Research Station, which operates from the same property.

Bats are mammals which give birth to live young and produce milk to feed them. Over sixty different kinds occur in Australia. Most eat insects, but eight feed only on flowers and fruit, and are known as fruit-bats or flying-foxes. The rare Spectacled Flying Fox is only found in North Queensland!

Many visitors to Cape Tribulation will leave shaking their heads in amazement after having met one of the more fascinating inhabitants of the rainforest - a flying fox. As rainforest ambassadors, they are unrivalled - friendly, intelligent and definitely personality plus. Great show stoppers and crowd pleasers, and great for getting visitors to start asking questions about the rainforests (as well as losing their fear of bats).

The photo display is very interesting, explaining the evolution and environment of our bats.
All Bat House staff are volunteers and their work is research as well as nursing injured bats back to health with the hope of releasing them back into the rainforest. They will have a 'pet bat' on display on most days, however, you are not allowed to touch due to the risk of spreading disease.

Prior to the Bat House being built in 1991, the land around it had been cleared for grazing and orchards by previous owners. An intensive revegetation and replanting effort was put in place and the land is vastly recovered.

Open between 10.30 and 3.30 every day except Mondays, Christmas day and New Year's day. Entrance to the Bat House is by a $2.00 per person donation (children free).

Proceeds from the Bat House fund the research activities of the Cape Tribulation Tropical Research Station, feed the resident fox colony and help the yearly rescue of spectacled flying foxes, orphaned through tick paralysis, in areas of the Atherton Tableland to the west of Cairns. They also sell books, T-shirts, batty stuff and local memorabilia.

You will find this little centre very informative and donations are greatly appreciated!
Edit This Page
Edit Page Content
Post Comment