Viewing 1 to 1 of 1 properties
Viewing 1 to 1 of 1 properties
Beach Front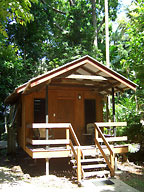 Compared to a lot of famous tourist destinations along coastal Queensland, Cape Tribulation is still an off the beaten track destination. With crystal-clear rainforest streams, rugged beaches, rainforest walks, and breathtaking lookouts, there is plenty to discover. Cape Tribulation Beach features fringing reef along the shoreline and is widely known as where the 'Rainforest meets the Reef'. Simple budget beach cabins can be found at the Cape Trib Beach House. This is the only beachfront property in Cape Tribulation.
Budget

The Daintree Rainforest is the perfect escape if you're looking for eco friendly accommodation that won't break the bank. Visiting the Daintree is all about the rainforest experience. Budget rainforest holiday accommodation is spread out along the Daintree Coast tucked away in pockets of rainforest. Comprising of simple timber cabins and safari tents, rainforest accommodation is designed to have the least impact on the surrounding environment, and to give you that true wilderness experience.


Cape Tribulation

Cape Tribulation is a headland and locality situated 35 kilometres north of the Daintree River Ferry. It is the most northern settlement of the Daintree region. A small tourism hub is centered around Cape Tribulation. Shops and services include PK'S Jungle Village, a pharmacy, bottleshop, take-away food, cafe, research centre and Friendly Grocer Supermarket. There are also a small number of eco lodges, rainforest retreats and backpacker hostels in the area. Cape Tribulation has become an icon to many people, as it is the only place known on Earth where two World Heritage areas exist side by side, fondly referred to as 'where the rainforest meets the reef'. Visitors can enjoy bushwalking, night spotting for wildlife, a variety of rainforest adventures and exploration of the fringing reefs.
Daintree Village

The Daintree Village is located about 12km upstream from the Daintree ferry crossing .This unspoilt haven is set in the midst of some of the loveliest and most varied scenery in Far North Queensland. Here you will find a delightful mix of cattle country, tropical fruit farms, secluded retreats, host farms and areas of lush tropical rainforest. The village itself contains a number of local art and craft shops including handmade pottery, textile art and painting, local jams and produce, souvenirs and tropical clothing. There are also a small number of restaurants and cafes. There are also many river tours operating throughout the day, allowing you to appreciate the magnificent scenery and wildlife of the Daintree River. Accommodation comprises of deluxe bed and breakfasts to a private, self-contained holiday home and a world-renowned luxury eco resort.
Family Friendly

A world of exploration and adventure awaits! The Daintree Rainforest provides a wonderful learning opportunity and appreciation for families and children of all ages, where you can embrace the magic of the rainforest and its native wildlife. With limited mobile phone reception, tv and other conveniences, the Daintree provides the perfect opportunity to turn off all gadgets and go exploring! Whether you're looking for something fun to do over a weekend, or an outing for the school holidays, the Daintree Rainforest is full of activities and adventures...getting there is all part of the fun!
Holiday Homes

The Daintree Rainforest is a great place to relax and unwind, and what better way to enjoy the rainforest experience than in your own unique holiday home. Each holiday house is very special with its own unique features, whether situated by the beach, next to a private waterfall or high up in the hills overlooking the vastness of the Daintree Coast, the experience and beauty will blow you away. For those who prefer the comforts of home, then a self contained holiday house is the ideal option. Perfect for families and couples, you can experience your own piece of rainforest paradise, in peace and tranquillity.
Rainforest Resorts

Rainforest Resorts are ideal for an intimate couples getaway, be it a honeymoon, anniversary, birthday or simply the opportunity to get away and spend some quality time together. Boutique rainforest accommodation comprises of individual timber cabins that are set apart in the rainforest, to provide you with the uptmost peace and privacy. Here you can enjoy the wonders of the rainforest from the comfort of your cabin. The rainforest is the perfect destination for those who are in need of some self nourishment, and you will find that some retreats also offer a spa facility so you can take away a lasting sense of wellbeing through a complete body, mind and soul experience.