DAINTREE RIVER CRUISES
There are many Daintree River tours to choose from, run by experienced local guides who know the area inside out. The some of the best river tours are the ones that capture the ambience of a tropical river system either in the early morning or at dusk.
Boats range in size from 4 passengers to 50 passengers. Some river trips specialise in wildlife at dawn and/or evening spotlighting and some concentrate on fishing and some offer special photographic tours for the very keen photographers.
Daintree River tours are an important part of tourism in the Douglas Shire and most day safaris to the Daintree and Cape Tribulation include a tour on the river.
Several cruise boats depart throughout the day either from the Daintree Village jetty, the public pontoon near the ferry or a few private boat pontoons on the river.
Croc spotting is a highlight on most of the river tours. The animals have become used to the tour boats so the cruise boat operators can get a close look from about 10-15 metres. There are two electric wildlife cruise boats that operate tours with quiet electric motors (one has a video camera that can show you instant replays). The other cruise boats all use modern state-of-the art, 4-stoke outboard motors that are designed to operate with minimum noise and pollution.
Specialised tours at dawn, daytime or dusk should not to be missed as these are the best times to discover the huge diverse range of our wildlife, mangroves and birdlife which are all an integral part of your rainforest experience.
Most river tours are usually about an hour long, however, there are a few of the smaller tour boats that have tours that are a minimum of two hours.
All the tours offer the perfect introduction to the unique wildlife and flora of the Daintree Rainforest and River while comfortably cruising along in a boat with a knowledgeable guide .
DAINTREE RAINFOREST WALKS
There are a range of walks that you can take into the Daintree rainforest - beach walks, boardwalks, guided walks and longer treks with real jungle trails for those feeling fit!
The popular Mardja Botanical Walk is located 10 minutes drive to the south of Cape Tribulation. A boardwalk and concrete pathway leads you through high value rainforest with interpretive signs to Oliver Creek, where you can sit and watch out for crocodiles. The walk takes around 30 minutes, with the best times being early morning or late afternoon to avoid the tourist rush.
There are also numerous tour companies offering guided day walks and nocturnal walks. You can experience the thrill of searching for crocodiles at night on the night walks, or learn about the history of the ancient Daintree Rainforest, its conservation, ecology, bush food, traditional culture and its unique wildlife on the interpretive daytime walks.
Animal sightings on these walks include pythons, spiders and small native marsupials such as bandicoots and melomies.
Mason's Tours have guides who can take you to the best areas on real jungle trails. They do not use boardwalks or concrete paths, they are typical jungle trails perhaps resembling an Aboriginal Road that would have existed here before the arrival of Europeans.
The half day walk is located on Mason's own 170ha property bounded by the Wet Tropics World Heritage Area. This slow paced walk covers 3 – 5km, features a special guide, real jungle tracks and a refreshing swim in Myall Creek – is there a better way to be introduced to the Daintree rainforest at Cape Tribulation?
Coopers Creek Wilderness run guided walks daily. This section of the Daintree is considered to be the world's oldest rainforest - a living museum.
Visitors to Coopers Creek can be assured that their contribution payments will assist the land managers in maintaining the rainforests of Cooper Creek Wilderness. These tours have been designed to provide exclusive experiences away from mass tourism.
MOSSMAN GORGE
Crystal clear water cascades over large granite boulders in the Mossman River gorge...
Mossman Gorge is one of the most visited spots in the Wet Tropics. Part of the Daintree National Park, Mossman Gorge National Park provides a nice, easy and accessible introduction to the tropical rainforest.
This is a great location to cool down in the crystal clear waters running down from the Tablelands.
Lush rainforests cloak steep mountainsides from the riverbanks up to the rugged eastern slopes of the Main Coast Range, and crystal clear water cascades over large granite boulders in the Mossman River gorge. Embark on your own adventure through the Gorge. Bring a picnic lunch to enjoy by one of the many swimming holes.
DAINTREE RAINFOREST BOARDWALKS
There are several boardwalks in the Cape Tribulation Section for visitors to enjoy. Three of the four short boardwalks, Marrdja, Dubuji and Kulki, are fully wheelchair-accessible. At the fourth boardwalk, Jindalba, wheelchair access to the creek is available from the exit end only, near the disabled park bays.
Marrdja "rainforest" or "jungle"– 1200m loop (45 minutes)
Grade: Easy (Wheelchair accessible)
The Marrdja Boardwalk is on the Daintree/Cape Tribulation Road, just north of Noah Creek.
You can spend from half and hour to half a day here. Every stage in the evolution of land plants for the last 400 million years is represented in a very small area at Marrdja. The path loops through rainforest and mangroves and out to a viewing platform over Noah Creek. The information signs along the botanical walk explain the evolution of land plants from the sea to the emergence of flowering plants, the break up of Gondwanan rainforests and the coming of humans.

Dubuji "place of spirits"– 1200m loop (45 minutes)
Grade: Easy (Wheelchair accessible)
The Dubuji Boardwalk is on the Daintree/Cape Tribulation Road and abuts Myall Beach. The carpark is signposted, not far south of the Kulki/Cape Tribulation turn off.
The 1.2 kilometre track begins at the carpark and meanders through the vine forest, mangroves, sedge swamps and fan palms of this special forest. Spring fed creeks flow through area, which supports a wide diversity of plant and animal life. There are many viewing areas along the path, allowing you to stop, read the information signs and take in the surrounding beauty at this popular destination.
Jindalba "foot of the mountain" – 650m loop (30 minutes)
Grade: Easy
The Jindalba Boardwalk is on the Daintree/Cape Tribulation Road, midway between the Cape Kimberley and Cow Bay Roads. Turn off into Tulip Oak Road and follow it to the end. There are toilets and picnic shelters here, and both a short loop and a long loop walk.

Jindalba is the traditional Kuku Yalanji people's name for this area. This 700 metre rainforest boardwalk circuit winds up the hill and sometimes reaches 4 metres off the ground. It offers some elevated views of this lowland rainforest, including king ferns and fig trees. The information signs explain the complexities of rainforest structure and ecological processes - how different species have evolved to survive in the rainforest environment.
This is a 'Cassowary hot spot'. If you see a Cassowary while you are here, do not approach closer than 10 metres and do not feed it. You may find Cassowary droppings here - a round 'plop' of many seeds with most of their outer soft coating removed. Cassowaries are vital in dispersing many seeds too large to be transported by other wildlife.
Kulki– 800m return (10 minutes)
Grade: Easy (Wheelchair accessible)
Follow the Daintree to Cape Tribulation Road. The Kulki - Cape Tribulation walk is well signposted at Cape Tribulation itself.
Kulki is the traditional name for this area. The short boardwalk is a very popular visitor site offering stunning views of the beach and coastal ranges where the rainforest meets the reef - two World Heritage Areas. The interpretive signs describe the World Heritage significance and history of the area and how it is important in different ways to a wide range of people.
You can walk from Kulki either over the headland and south along Myall beach or north to Emmagen Creek as long as the tide is not too high.
COOPER CREEK WILDERNESS
Cooper Creek Wilderness takes you directly to the heart - the sacred heart of the 135-million year old living museum.
Cooper Creek Wilderness lies under the protection of Thornton Peak. Occupying the most biologically diverse part of Australia's Wet Tropics World Heritage estate, it is considered to be the closest living counterpart to the ancient rainforests of Gondwana.
The incomparable old-growth grandeur of magnificent fan palm galleries and spectacular blue waters of Cooper Creek provides for experiences as inherently wondrous as they are challenging and at times uncertain.
There are no artificial boardwalks. Natural trails traverse an acient landscape that is part of the complex rainforest environment. Access may be unsuitable for persons with limited mobility; wildlife behaviour and fauna sightings are unpredictable. Participants need to accept the risks and uncertainties associated with a genuine wilderness experience.
Explore the rainforest's secrets with an experienced inhabitant who will guide you through the Daintree wilderness. Tours have been designed to provide exclusive experiences away from mass tourism. Only Cooper Creek Wilderness can show you the best of the Daintree Rainforest.
Coopers Creek offers 2 and 6 hour guided interpreted walks including a 1-hour cruise through the world's most diverse mangrove community in search of elusive crocodiles. Noctural walks including an evening meal overlooking Cooper Creek and a leisurely swim in its idyllic waters are also available.
THE DAINTREE DISCOVERY CENTRE
The Daintree Discovery Centre is a world-class interpretive facility that allows visitors easy access to this unique rainforest wilderness via boardwalk tours, a 23 metre high Canopy Tower, Aerial Walkway and a comprehensive Display Centre.
It offers visitors an opportunity to learn about and explore one of the few remaining unspoiled pockets of lowland rainforest in Far North Queensland, while at the same time protecting the fragile environment.
The Daintree Discovery Centre is an accredited Wet Tropics Visitor Centre. It is highly regarded as a quality eco-tourism experience, providing an excellent introduction to the wonders of the Daintree Rainforest.
With a large indoor display area, the latest touch screen technology, audiovisual theatre and sweeping, all-weather verandas, the Centre has something to offer everyone.
Visitors can meander along elevated rainforest boardwalks including the Cassowary Circuit and the Bush Tucker Trail. They can take a self-guided tour using an audio guide, or a pre-booked group tour with an experienced naturalist.
The spectacular Aerial Walkway and the 23m (76ft) Canopy Tower are a 'must see'. The Tower is quite unique as it has 5 viewing platforms that look out over the rainforest canopy and beyond, allowing visitors of all ages to access the various levels of the rainforest - from the forest floor to the upper most reaches of the canopy.
Getting There:
The Daintree Discovery Centre is an easy 2 hour drive north of Cairns, located just 10 kms north of the Daintree River ferry. You do not need a 4WD vehicle to drive to the Daintree Discovery Centre - the road is sealed all the way and readily accessible by all vehicle types.
DAINTREE WILDLIFE SANCTUARY
At the Daintree Mangrove Wildlife Sanctuary rare and endangered species such as the north-east Queensland's Golden-shouldered Parrot and Gouldian Finches are bred.
The Sanctuary is a brilliant day out from Port Douglas or Cairns for families, individuals and groups wanting to see, touch and photograph wildlife set within wetland reserves and purpose built aviaries with first class amenities.
Daintree Mangroves Wildlife Sanctuary boasts one of the most comprehensive collections of Australian Cockatoos, Parrots and Finches. The display is further enhanced by two giant flightless Australian birds; the Emu and Cassowary along with Australia's only native dog, the Dingo and some Saltwater and Freshwater Crocodiles.
The Sanctuary features of the most comprehensive displays of native cockatoos, parrots and finches in Australia.
View animals in 10 acres of tropical gardens. Endangered quolls, bettongs, cassowary, glosy black cockatoos, golden shouldered parrots up close for that special photo. Feed crocs, kangaroos, gliders, emus, cassowaries and dingoes.
There is a restaurant onsite where you can relax, enjoy morning tea, lunch or afternoon tea.
Experience living in a sanctuary or come as a day visitor.
DAINTREE EXOTIC FRUIT FARM
In 1988, Digby and Alison chose to set up an organic farm in Cape Tribulation. Over the last 10 years, They have collected seeds from around the world and planted an exotic tropical fruit orchard, with more than 100 different species and over 2000 fruit trees from the Amazon, South East Asia, and the Caribbean.
All our produce is grown organically, and is free of pesticides and artificial chemicals.

In 1996, as the trees started to produce enough quantities of fruit Alison and Digby decided to offer fruit tasting to visitors who were interested in unusual fruit and permaculture. Hundreds of visitors from around the world have arrived to sample their fruit, and they have enjoyed watching people discover for themselves the delights of eating exotic tropical fruit.
Cape Trib Exotic Fruit Farm offers daily fruit tastings and a farm tour. You will get to taste at least 10 different exotic fruits in any season. They will show you through the organic orchard, and permaculture system.
Enjoy spending time with Digby Sarah, Antoinette or Trish, local exotic fruit enthusiasts who will guide you through the menu and entertain you with stories about the fruit while you eat them.
You will learn how to prepare the fruit, what parts to eat and how to eat them.
Some of these fruits are starting to appear in markets - but many will never appear in the capital cities, as they are too fragile. They simply have to be sampled where they are grown, fresh from the tree.
Exotic tropical fruit comes in all shapes and sizes - some are hairy, others have lumps and bumps or sharp spikes.
Often the most unusual fruit turns out to be the most delicious.
Tempt your taste buds with new and unusual flavours such as the chocolate pudding fruit and fruit that tastes like lemon meringue and creme caramel.
THE INSECT MUSEUM
The Daintree Entomological Museum is located along Turpentine Road, just 50 metres from the turn off on the left hand side.
This private collection has taken 30 years to assemble and contains the worlds most rarest and stunning specimens. The Museum was built to allow the public shire a look into the fantastic world of beautiful butterflies and beetles. Here you will not only see the worlds largest Moths and Dragonflies from the Daintree region but also other live insect displays in season.
The Daintree Entomological Museum is owned, established, built and collected by Stephen Lamond.
It has taken nine years to build this private museum that now houses over 150,000.00 of Steves specimens. The building has been hand built with beautiful mahogany rainforest timbers. The Exquisite parquetry floor, stunning front entrance, frames and cabinets are all handcrafted on the property.
This professional Insect Collector and Naturalist is a one-man Insect encyclopaedia. Steve has been collecting insects for over thirty years, travelling around the world discovering new species and finding rare specimens. Steve is the man you call when an insect is thought to be extinct or not been found for 50 years.
Lamond is famous for discovering the last major insect species named the "Batocera Lamondi" by the Coleopetera Society. He discovered this beetle while on an expedition to the Solomon Islands in Malatia in 1979.
On his most recent adventure Steve discovered a new species of Rainforest Jewel Beetle whilst perched for hours waiting thirty metres up a Eucalyptus Tree at the Mossman Range in Nth Queensland, eventually naming this species " Caladeima Michalae" after his wife.
This amazing collection of insects the uniqueness of this museum reflects the exception individuality of this self made entomologist whom is well known around the world as the "Butterfly Man".
Visit:
Daintree Entomological Museum
Turpentine Road
Cape Tribulation
THE BAT HOUSE
The Bat House at Cape Tribulation is worth a stop! You will find their little centre opposite the PK's Jungle Lodge.
The Bat House is a volunteer run, accredited Wet Tropics Visitor Centre and is so named because there is always a pet flying-fox in attendance. It provides environmental and tourist information on the region, and on the research activities of the Cape Tribulation Tropical Research Station, which operates from the same property.
Bats are mammals which give birth to live young and produce milk to feed them. Over sixty different kinds occur in Australia. Most eat insects, but eight feed only on flowers and fruit, and are known as fruit-bats or flying-foxes. The rare Spectacled Flying Fox is only found in North Queensland!
Many visitors to Cape Tribulation will leave shaking their heads in amazement after having met one of the more fascinating inhabitants of the rainforest - a flying fox.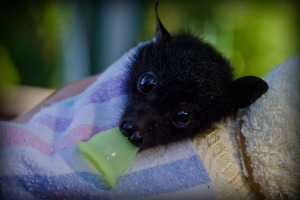 As rainforest ambassadors, they are unrivalled - friendly, intelligent and definitely personality plus. Great show stoppers and crowd pleasers, and great for getting visitors to start asking questions about the rainforests (as well as losing their fear of bats).
The photo display is very interesting, explaining the evolution and environment of our bats.
All Bat House staff are volunteers and their work is research as well as nursing injured bats back to health with the hope of releasing them back into the rainforest. They will have a 'pet bat' on display on most days, however, you are not allowed to touch due to the risk of spreading disease.
Prior to the Bat House being built in 1991, the land around it had been cleared for grazing and orchards by previous owners. An intensive revegetation and replanting effort was put in place and the land is vastly recovered.
Open between 10.30 and 3.30 every day except Mondays, Christmas day and New Year's day. Entrance to the Bat House is by a $2.00 per person donation (children free).
Proceeds from the Bat House fund the research activities of the Cape Tribulation Tropical Research Station, feed the resident fox colony and help the yearly rescue of spectacled flying foxes, orphaned through tick paralysis, in areas of the Atherton Tableland to the west of Cairns. They also sell books, T-shirts, batty stuff and local memorabilia.
You will find this little centre very informative and donations are greatly appreciated!
DAINTREE ICE CREAM COMPANY
The Daintree Ice Cream Company on the northern side of the Daintree River en route to Cape Tribulation is a must stop for all visitors.
This boutique ice creamery is renowned for its exquisite desserts made from tropical fruits grown in the company's own orchards such as Black Sapote, Soursop, Wattle Seed and Jackfruit.All the ice creams are made on the premises and the flavours vary throughout the year, as only fruit in season is used for the ice cream. Tucked away in a small building among black sapote, mango, jackfruit and lychee trees, a lush tropical garden shelters this place of peace. The available flavours are displayed clearly on the board nearby. The ice cream is primarily sold as a fixed sample pack - four flavours in a rather large cup for $6.
Forge friendships and chat while you slurp on a passionfruit, soursop or wattle-seed ice cream treat.
Opening Times: 11am to 5.00pm daily Ice-Cream, Mango Juice and more on sale.