MOSSMAN GORGE
Crystal clear water cascades over large granite boulders in the Mossman River gorge...
Mossman Gorge is one of the most visited spots in the Wet Tropics. Part of the Daintree National Park, Mossman Gorge National Park provides a nice, easy and accessible introduction to the tropical rainforest.
This is a great location to cool down in the crystal clear waters running down from the Tablelands.
Lush rainforests cloak steep mountainsides from the riverbanks up to the rugged eastern slopes of the Main Coast Range, and crystal clear water cascades over large granite boulders in the Mossman River gorge. Embark on your own adventure through the Gorge. Bring a picnic lunch to enjoy by one of the many swimming holes.
Mossman Gorge Centre:
Entry to Mossman Gorge is via the Mossman Gorge Centre. An Eco Shuttle Bus departs every 15 minutes and is around $8.90/adult, $4.45/child and $22.25/family. 0-4 years Free. This is a new indigenous eco tourism development with a cafe and art gallery. Mossman Gorge Centre Opening Hours are 8am - 5.45pm 7 days per week excluding Christmas Day. Ample free parking is provided.
Swimming: The crystal-clear water of the Mossman River cascading over granite boulders forms watering holes surrounded by lush green rainforest. These sheltered retreats offer the perfect location for a refreshing and invigorating dip to break up your walk through the Gorge. Float away in the tranquil surroundings and take the time to appreciate nature at its best.
Self guided Walks: There are two circuit tracks. A short, 400m track provides access to lookouts over the Mossman River. Beyond this is a 2.7km loop track through the rainforest. These can be self-guided.
Self guided River circuit track – 400m return (10minutes) Grade: Easy
This easy circuit track starts at the shuttle bus stop (original car park) and runs alongside the Mossman River, returning through the forest. To extend your walk, you can continue on to the Mossman River lookout and further on to the Rainforest circuit track via the Rex Creek suspension bridge and the Manjal Dimbi lookout.
Self guided Rainforest circuit track – 2.7km return (1 hour) Grade: Easy
This 2.7km loop track is accessed from the river circuit track via a suspension bridge over Rex Creek. There are views of Manjal Dimbi (Mount Demi) plus an access point to Wurumbu Creek. Signs provide information on rainforest plants and their uses by the Kuku Yalanji people for food, medicine and materials.
Ngadiku Dreamtime Walks: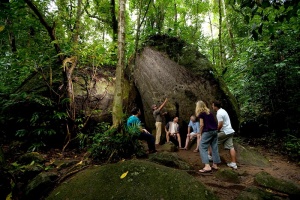 The local indigenous community operates Kuku Yalanji Dreamtime Walks through the ancient Daintree forest on community land. These are called Ngadiku (Nar-di-gul) meaning strories and legends from a long time ago in local Kuku Yalanji language. Journey along private, easy graded tracks, visiting special places and culturally significant sites, past traditional bark shelters and over meandering cool rainforest streams.
Guided Dreamtime Gorge Walk (Tour)
You are welcomed with a traditional 'smoking' ceremony that cleanses and wards off bad spirits. The walk then meanders through stunning rainforest and takes in traditional huts or humpies. Your experienced interpretive Indigenous guide demonstrates traditional plant use, identify bush food sources and provide an enchanting narrative of the rainforest and their special relationship with this unique tropical environment. A stop at 'the Beach', gives you the opportunity for a refreshing swim in this water hole, where your guide demonstrates traditions like making bush soaps and ochre painting. At the end of the tour enjoy traditional bush tea and damper.
Features:
Traditional smoking ceremony
Visit a sacred ceremony site
Stories of the Kuku Yalanji culture and traditions
Experienced Indigenous guides
Intimate group tour (max 15 guests)
Exclusive access to Kuku Yalanji land
Bush tea and damper
Soap & ochre paint making demonstration
Duration approx 1.5 hours
Departs 10am, 11am, 12pm, 1pm and 3pm daily
Things to remember
Have the best possible time at the Gorge by packing the following items:
Insect repellent
Light weight cotton clothing
Hat
Sunscreen
A comfortable pair of walking shoes
Towel and swimmers
Umbrella/Poncho
Level/Grade of the walks - Easy
Wheelchair accessibility - No
Getting There:
From Cairns, travel north for 80km along the Cook Highway to Mossman. In the centre of Mossman turn left into Johnston Road. This 5km bitumen road leads directly to the Mossman Gorge car park. Please drive slowly and with particular care when passing the Mossman Gorge Aboriginal Community on your way to the park.
Kuku Yalanji Dreamtime
The Kuku Yalanji are the indigenous inhabitants of the land which stretches from around Cooktown in the north to near Chillagoe in the west and Port Douglas in the South.
"We are true rainforest people who live in harmony with our environment. We are part of it and it is part of us. Our culture has always involved a deep respect for nature and an intimate knowledge of its cycles."
"What we know about the plants of the rainforest we learnt from our elders - our fathers, grand fathers, mothers, uncles and aunties. What we know belongs to them, to our culture and our traditions. Mossman Gorge is a very special place...its water, its rainforests and its mountains hold many stories...We invite you to share it with us."
Mossman Gorge is located only 20 minutes from Port Douglas.
Visitors on the guided rainforest walks are treated to a 1½ hour walk along private, easy graded tracks, visiting special places and culturally significant sites, past traditional bark shelters and over cool rainforest streams.
The experienced interpretive guides demonstrate traditional plant use, identify bush tucker sources, share their dreamtime legends, explain the history of cave paintings and provide an enchanting narrative of the rainforest and their special relationships within this unique tropical environment.
The Dreamtime Walks are conducted four times a day after which guests enjoy a Didgeridoo performance, Tea and Damper at the end of each tour.
Once you have finished your walk, we recommend that you visit the township of Mossman, and then take a drive up to the World Heritage Listed Daintree Rainforest and then if time allows it, a visit to Cape Tribulation; where the rainforest meets the Great Barrier Reef.
Guided Walk Times
9am, 11am, 1pm, 3pm Monday to Saturday
Opening Hours:
8:30am to 5pm Monday to Saturday
May occasionally be closed due to significant cultural events