Solar Whisper Info
Solar Whisper is a 1 hour crocodile and wildlife spotting cruise on the Daintree River.
Get close to nature on a quiet clean solar electric boat. Hear, smell & experience without noise and fumes.
Solar Whisper offers a 99% success rate for spotting crocodiles, excellent birding opportunities and other wildlife possibilities such as snakes, frogs, crabs and fish.
1 Hour Cruise Departure Times:
9:30am, 10:45am, 11:45am, 2.15pm
Your experienced interpretive guide is accustomed to the nuances of the river, rain-forest and mangroves and can spot an incredible variety of wildlife that you would not necessarily see on your own. The boat is fitted with the unique "CROC CAM" to help show well camouflaged wildlife.
We have about a 99% success rate with spotting crocodiles. The small ones are very reliable but the big ones come and go. Even when they are around they can hold their breath for several hours! Successful spotting depends on many factors, low tide is usually better as there more beaches and less water to hide in.
The weather plays a part, crocs are happy when they are warm so if the water is cold they get out, if the water or the sun is very warm, they stay in but are more active. The Daintree River is a natural wild environment and we cannot guarantee wildlife, but we usually see something interesting and the scenery is always stunning.
Travstar Hot Tip:
The best time to spot Crocs is 2 Hours before low tide.
Driving Times
From Port Douglas: 45 minutes

From Mossman: 30 minutes,

Cairns: 90 minutes
How to get there
If you are staying on the North Side of the river we can pre-arranged to pick you up from that side of the river next to the Ferry. Alternatively you can park your car on the North side and catch the Ferry as a foot passenger then it's only a short 400m walk to our office. If you do this let us know as we will reimburse you the $3 ferry charge for foot passengers.
Join us for a great Daintree River Wildlife Cruise. The travelling time from Cairns is 1.5 hrs. or from Port Douglas just 50 minutes.
Head north up the Captain Cook Hwy through Mossman and keep following the signs towards Cape Tribulation. After passing the Caltex service station at Wonga continue another 9.6 km's (6 mins) north then turn right at Cape Tribulation Rd. Travel 3.2 km's towards car ferry. Turn left into the car park and look for the Solar Whisper Wildlife Cruise booking office.
Tours depart from behind our ticket office which is on Cape Tribulation Rd and car parking is right out the front.
Need Help With Your Booking?
Our Cairns Office is Currently Open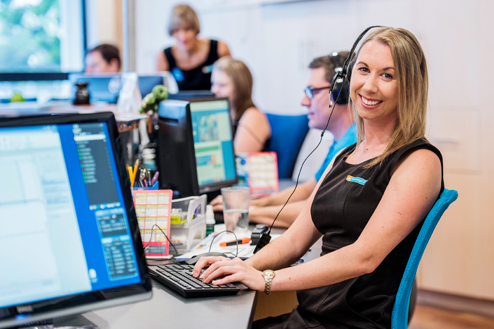 About Travstar Booking Requests
There are some things a computer can't do.
We love helping people plan their holidays and we want to make sure we get it right.
Some holiday packages can be quite complicated with multiple tours and accommodation, pick-up times and extras.
That's why every booking made through a Travstar Website is checked by our local consultants.
It takes a little bit longer to get your tickets but we want to make sure everything is going to run smoothly for you.
How long wil it take to get my tickets?
Our team are alerted to new booking requests as they come in. During office hours you can expect to have your tickets within an hour or two.
After office hours your tickets may take up to 12 hours to arrive.