INSTANT BOOKING OPTIONS
Cape Trib Horse Rides Info
CAPE TRIB HORSE RIDES:

Enjoy the only Horse Riding Tour in Cape Tribulation. Breathtaking Cape Tribulation scenery as you meander your way through the oldest living rainforest in the world, until you reach the spectacular Cape Tribulation Beach - where the Rainforest meets the Reef. Cape Tribulation horse rides caters for beginners, intermediate and experienced riders on a group of very friendly, well trained horses and is the only horse riding available in the Cape Tribulation area.
Why we like it:
Ride on spectacular Cape Trib Beach
Ride through ancient Rainforest
Caters to all experience levels
Included in your day:
Cape Tribulation accommodation transfers
Safety helmet
Instruction and guide
Beach Ride for Beginners and Advanced Riders:
Morning departure at 11am and return at 1pm (approx.)
Afternoon Beach Horse Ride: 2.30pm and return at 4.30pm (approx.)
1.5 hour group horse ride in the rainforest, along mountain streams and lovely Cape Trib beach.
They have different horses for beginners and advanced riders.
What to wear / take:
Long pants
Swimwear under clothing
Towel
Camera
Closed, secure footwear such as joggers or boots are essential.
NO thongs or bare feet
Getting There: Depart from Cairns and take the scenic Captain Cook Highway north; pass through the town of Mossman and cross the Daintree River on the cable ferry (charges apply). Enjoy the drive as you wind though the oldest tropical rainforest in the world. The distance from Cairns to is only 140km, approximately 2.5 hours drive.
PLEASE NOTE:
Before booking your horse ride please take a moment to select your riding ability. The operators stress the point that you do not overstate your riding ability as it will not only reduce your enjoyment of the ride but can also lead to dangerous situations and injuries.
Beginner Riders: Complete beginners with no riding experience, riders who have ridden 30 times or used to ride years ago, riders with some experience but who are not confident trotting, cantering or controlling a horse.
Intermediate Riders: Riders who are confident controlling a horse and have ridden at least 30 times.
Expert Riders: Riders, who are absolutely confident with every aspect of riding, have several years experience, ridden over 100 times and continue to ride frequently.

The maximum weight a person can be to ride on Cape Trib horses is 102kg (16 stone). This is to ensure that all safety standards are met for you and the horse and bookings cannot be made if over this weight limit.

Not suitable for anyone who is pregnant.

Ride operates Rain or Shine
GOOD NEWS! All payments made through Travstar do not incur a credit card surcharge.
Guest Reviews
Highly recommend even if you have no horse experience
Posted By Jenene Acland
A wonderful experience
A wonderful experience. Cantering along and almost empty Cape Trip Beach with the horses on the edge of the water was great.
Posted By Randall Foster
Cape Trib Horse Rides
Great ride. Staff were very friendly and helpful. Horses had personality and were well matched to riders. Through rainforest, streams and onto the beach. Brilliant!
Posted By Ros Vic
Had a great day
Had a great day , we will come again when the weather is better
Posted By Mike Priestley
scenery was just amazing!
The horse ride was spectacular! As someone who had never ridden a horse until this experience, I found the horse easy to ride and control under the helpful guidance of the guides. The scenery was just amazing!
Posted By Zuiena Kabir
really pleasant ride.
Experienced, friendly guides make it a really great way to see the area and a really pleasant ride.
Posted By Rhiannon Schumacher
Thoroughly enjoyed it !
What a great day and a great experience. Thoroughly enjoyed it ! Thank you !!
Posted By Samantha Maclure
really good with beginner riders
really good with beginner riders
Posted By Guest
Need Help With Your Booking?
Our Cairns Office is Currently Open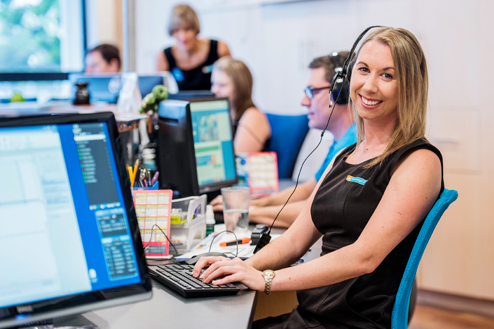 About Travstar Booking Requests
There are some things a computer can't do.
We love helping people plan their holidays and we want to make sure we get it right.
Some holiday packages can be quite complicated with multiple tours and accommodation, pick-up times and extras.
That's why every booking made through a Travstar Website is checked by our local consultants.
It takes a little bit longer to get your tickets but we want to make sure everything is going to run smoothly for you.
How long wil it take to get my tickets?
Our team are alerted to new booking requests as they come in. During office hours you can expect to have your tickets within an hour or two.
After office hours your tickets may take up to 12 hours to arrive.