Daintree Dreaming - Cape Tribulation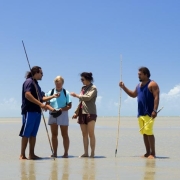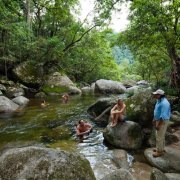 Daintree Dreaming - Cape Tribulation
2 Day 1 Night Daintree Dreaming
Traditional hunting & gathering
2 hour Coastal Cultural Walk
FROM enquire PER PERSON
---
Inc. all levies & taxes

Daintree Dreaming - Cape Tribulation Info
DAINTREE DREAMING CAPE TRIBULATION 2 DAY / 1 NIGHT TOUR:

Spend the night dreaming in the oldest rainforest in the world.

Walk in the steps of the ancestors... This fun, exclusive overnight tour allows to join a real Aboriginal cultural experience combined with the pristine natural beauty of the World Heritage Listed Daintree National Park.

Daintree Rainforest is the oldest living rainforest in the world, and the Kuku Yalanji people have been living within this environment for thousands of years. This unique and personalised two day itinerary will give you the opportunity to experience the area's rich Aboriginal culture and history, combined with enriching guided rainforest walks and spectacular Mossman Gorge. This is a truly magical couple of days with fantastic photo opportunities! Staying overnight in Cape Tribulation is a must on any adventurer's trip to Tropical North Queensland.

Inclusions:
2 hour Coastal & Cultural walk
Traditional hunting & gathering techniques
Learn to identify Bush tucker & medicine
Eat your catch with homemade damper
Welcome to Country ceremony
Lunch at Mossman Gorge Centre
Guided Rainforest Walk at Mossman Gorge
Swim in private swimming hole at Mossman Gorge
Scenic drive to Cape Tribulation through pristine rainforest
1 night accommodation at Ferntree Rainforest Lodge
Light breakfast at Ferntree Rainforest Lodge
Guided walk on Cape Trib Beach (optional)
Spectacular views from the Alexandra Range Lookout
1 hour Daintree Wildlife River Cruise
Lunch in Mossman with Free time to wander
1 hour Aboriginal Art Class with Local artist (paint a souvenir to take home)
Return hotel transfers
Day 1 (L)
Kuku Yalanji Cultural Habitat Tours – 2 hour coastal and mangrove walk
Travel to Cooya Beach north of Port Douglas and meet with the Kubirri Warra brothers who follow the traditions of their ancestors. This special place is a traditional fishing ground of the Kuku Yalanji. This unique coastal place has three diverse ecosystems – beach, mangroves and coastal reef – that are connected to each other by the every changing mudflats and tidal lagoons. Here you will be introduced to traditional fishing and gathering techniques with the aim of finding your own tucker (food). Learn how to throw a spear and search and hunt. Your catch may include crabs, mussels and fish. You will also learn about bush tucker and medicines before going back to the balcony of the family home where your tucker is cooked up for everyone to share with homemade damper.
Welcome to Country Ceremony
You are greeted with a traditional smoking ceremony. This ceremony is conducted by Aboriginal people with specialized cultural knowledge to welcome people to their land. It is a cermony of spiritual cleansing, to ward off evil spirits and to ensure that while you are on the traditional land of Kuku Yalanji people, you are accepted and honoured.

Mossman Gorge
Wander into the lush rainforest of the World Heritage Listed Daintree National Park - Mossman Gorge. Home of the Kuku Yalanji people. An easy walk across boardwalks, tracks and bridges that protect the delicate ecosystem of pristine waterfalls and mountain ranges. Your guide will explain the vivid flora and fauna of this diverse rainforest. Ensure you bring your bathers/swimmers/togs so you are able to make the most of this beautiful private swimming hole encased by rainforest.
Lunch
A delicious lunch infused with local flavours is served in Mossman Gorge Centre. There is time to explore the gallery with artworks from prominent and emerging artists of the area.

Daintree Rainforest
Travelling further north, cross the Daintree River by cable ferry, as you journey into the heart of the World Heritage listed Daintree National Park to Cape Tribulation.

Sleep overnight at Ferntree Rainforest Lodge, with your chosen style of accommodation.

Day 2 (B&L)

Cape Tribulation

Light breakfast before a guided beach walk and Cape Tribulation lookout.

One hour Wildlife River Cruise

Cruise the Daintree River searching for wildlife.

Lunch

Enjoy a delicious lunch in the cane farming town of Mossman.

Janbal Gallery

Visit with local Aboriginal Artist "Binna". Learn the stories told through Aboriginal painting and create your own souvenir to take home. Connect with Indigenous culture and beliefs and experience, first hand, their connection to the natural environment.

Please note: Afternoon snacks and Evening meal is at own cost on the overnight tour. Itinerary can be amended subject to operational circumstances.

What to Bring:
Hat & Sunglasses
Sunscreen & insect repellent
Swimmers & towel
Bottle of water & Camera
Small overnight bag (no suitcases please)
Light coloured clothing, shorts
Money for evening meals and snacks

Departures:
Departs Tuesdays and Thursdays
Pick up & return from Cairns: 7:30am - 6:30pm
Pick up & return from Northern Beaches (Trinity Beach, Palm Cove): 8:00am - 6:00pm
Pick up & return from Port Douglas: 9:00am - 5:00pm
GREAT NEWS! All payments made to Travstar.com do not incur a credit card surcharge!
Daintree Dreaming - Cape Tribulation Rates
Need Help With Your Booking?
Our Cairns Office is open again in 14 hours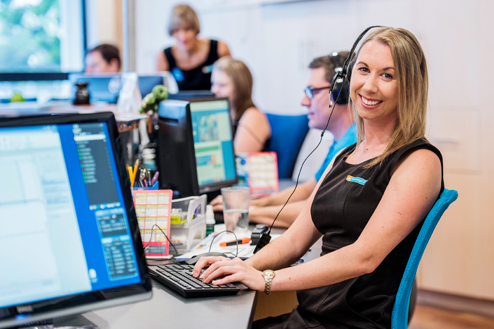 About Travstar Booking Requests
There are some things a computer can't do.
We love helping people plan their holidays and we want to make sure we get it right.
Some holiday packages can be quite complicated with multiple tours and accommodation, pick-up times and extras.
That's why every booking made through a Travstar Website is checked by our local consultants.
It takes a little bit longer to get your tickets but we want to make sure everything is going to run smoothly for you.
How long wil it take to get my tickets?
Our team are alerted to new booking requests as they come in. During office hours you can expect to have your tickets within an hour or two.
After office hours your tickets may take up to 12 hours to arrive.