Cape Trib Beach House Info
CAPE TRIB BEACH HOUSE
The Cape Trib Beach House is located just metres from a secluded and pristine beach, right where the rainforest meets the reef. It makes the perfect base to explore the wonders of reef and rainforest.
Why we like it?
Cabins nestled amongst tropical Rainforest
The only beachfront property in Cape Trib
Accommodation for all budgets
A truly back to nature experience
Property Facilities:
Open air rainforest bar open from 10am daily
Open air rainforest bistro open from 7am daily
Reception open from 8am ? 6pm daily
Large salt water swimming pool
Surrounding decking for sunbathing
Free parking
Self cook communal kitchen
Outside Dining area
Wi-Fi in office area
Linen supplied
Guest laundry
Disabled and wheelchair access available in Escape Cabins only
---
ACCOMMODATION:

Dorm Features:
Endeavour Dorms: Rainforest dorm rooms with 5 single beds. Sharing communal shower block and kitchen. Outside dining area. Linen is provided in dorms but guests will need to make own beds. Towels require a cash deposit of $10 per towel.


Endeavour Superior Dorm: Rainforest cabin featuring 3x Single Beds. Features private ensuite and shared balcony. Linen is provided in dorms but guests will need to make own beds. Towels require a cash deposit of $10 per towel.
Additionally Cabin Features:
Air-conditioning
Ensuite bathroom
Small fridge, tea & coffee making facilities
Phone
St Crispin's Cabins: Located only 20m from the beach, these free standing private cabins feature a king bed, private balcony.
Ribbon Cabins: Located only 30m from beach, these cabins feature king or twin beds, shared balcony.
Escape Family Cabins: Rainforest Cabins featuring double bed and two single beds, wheelchair access and shared balcony.
---
Please Note:
Please bear in mind that a stay at the Cape Trib Beach House is all about the rainforest experience, expect to see bugs and plenty of spiders!


Wheelchair users will be pleasantly surprised by how accessible the property is. The two Escape Cabins are especially convenient. There are no lifts to these two cabins, no stairs, the room is large and the light switches are low. The bathrooms is suitable for wheelchair access.
Activities:
There is plenty to see and do at Cape Tribulation, with the Daintree National Park and Great Barrier Reef so close at hand there is an abundance of activities. Please click here for more info.
Getting There:
Depart from Cairns and take the scenic Captain Cook Highway north; pass through the town of Mossman, and cross the Daintree River on the cable ferry (charges apply). Enjoy the drive as you wind though the oldest tropical rainforest in the world.


The distance from Cairns to Cape Trib Beach House is 140km, around a three hour drive. Cape Trib Beach House is located 38km north of the ferry crossing. The road is unsurfaced for the last 200 metres.
GREAT NEWS! All payments made to Travstar do not incur a credit card surcharge.
Guest Reviews
Loved everything about Beach House
Posted By Catherine Jack
Lovely
Lovely to have no phones etc..
Posted By Dot Hammond
The best two days we have spent together as a family
This was the best two days we have spent together as a family ( 3 people in the Endeavour Suite, which was just perfect, comfy beds, perky linen, really appreciated the ensuite)--the setting is just out of this world, what a privilege to be in the middle of rainforest and having the beach at our doorstep. Thank you so much for maintaining such a pristine property and sharing it with the world. We will definitely be back!
Posted By Terry Choi-Lundberg
Great location
Great location, staff very friendly & helpful!
Posted By David Flynn
Genuine setting
Genuine setting, accommodation suits the location perfectly.
Posted By Brent Moran
Relaxed, helpful, amazing setting
Everything about the beach house accomadation was fab. Relaxed, helpful, amazing setting and surprisingly wonderful food.
Posted By Alison Daly
The Best thing about the Cape Trib Beach House was the food.
The Best thing about the Cape Trib Beach House was the food. It was excellent. there was no information on the website about the need to cross the Daintree by vehicle ferry and the cost of transporting your vehicle. there could have been information about being able to take conventional vehicles up to the Cape Trib Beach house, we booked a 4wd which ended up as an expense that we could have done without. My daughter enjoyed it and said she would be back. It was a quick trip for us, however I will be back in November for the Solar Eclipse and this trip provided me with anough background information so that I can make the most of my next ttrip.
Posted By Jennifer Savage
The location by the beach was great.
The location by the beach was great. Food at the bistro was excellent. The room was basic but clean. Staff were all friendly and helpful.
Posted By Melinda Shaw
A very special stay in the Rainforest.
A very special stay in the Rainforest. The cabins sit well in their natural surroundings, are comfortable and well-designed for their purpose. Staff at the Beach House are exceptionally helpful. The chef does an extraordinary job providing excellent ( and surprisingly well-priced) menus daily.The beach is breathtaking.
Posted By Olga Pavlinov
Excellent location and food
Excellent location to the Cape Tribulation beach, and good facilities. Excellent food prepared by a newly appointed German chef.
Posted By Kyle Sterry
Clean rooms
It rained heavily so that made things a bit more difficult but overall happy. The rooms are clean and have all the facilities so it was nice. I think the breakfast could be better and at least included tea or coffee.
Posted By Marius Mollenmans
Will return!!
Would recommend this accommodation and will return.
Posted By Miranda Ballinger
A real paradise!
we consider the cape trib beach house to be a real paradise, my husband and i really enjoyed staying there
Posted By Svetlana Gordeeva
so stunning around the Beach House
I stay in Cape Trib at the start of my FNQ holiday. The rain forest is so stunning around the Beach House, that other rain forest experiences after leaving Cape Tribulation paled in comparison
Posted By Mike Angley
What a unique spot
What a unique spot, we loved it.
P.S. We will return!!!!

Regards, David C
Posted By David Collishaw
So close to beach, it was amazing!
this place was so close to beach, it was amazing. it is set right among the rain forest, and it does come right down to beach!!!! i spent the 3 days exploring the beach, which was just so great. would recommend this to others who want this experience. food was very enjoyable too...
Posted By Colleen
hidden in the rainforest
Great place, hidden in the rainforest, yet very close to beach.
Posted By Bedrich Michalek
Superb location.
Superb location.
Posted By Lesley Harrison
a lot to do
Hi Jo
Well I am back at home now...a little cooler than it was in Cairns & Cape Trib...well a lot cooler!
The Beach House was great...there was a lot to do ... thanks for your assistance, finding accommodation to suit being disabled can be very difficult... I actually stayed another day in Cape Trib and went out to the Reef Snorkelling on Rumrunner which I thought I would never be able to do ... a small company ... it was sensational ... and they really looked after me

Anyway it was great to meet you ... and once again thanks for all your assistance

Cheers Craig
Posted By Craig Sayers
Need Help With Your Booking?
Our Cairns Office is Currently Open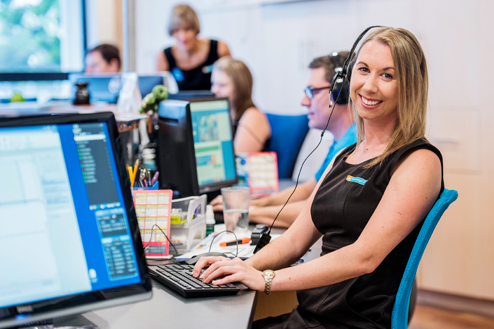 About Travstar Booking Requests
There are some things a computer can't do.
We love helping people plan their holidays and we want to make sure we get it right.
Some holiday packages can be quite complicated with multiple tours and accommodation, pick-up times and extras.
That's why every booking made through a Travstar Website is checked by our local consultants.
It takes a little bit longer to get your tickets but we want to make sure everything is going to run smoothly for you.
How long wil it take to get my tickets?
Our team are alerted to new booking requests as they come in. During office hours you can expect to have your tickets within an hour or two.
After office hours your tickets may take up to 12 hours to arrive.