11 Tours Found
We found 11 tours
2 day Cape Trib & Rock Art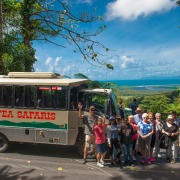 2 day Cape Trib & Rock Art
Best of Rainforest & Outback
CAPE TRIBULATION BEACH
DAINTREE RIVER CRUISE
Great Barrier Reef

Whilst there are many many reef trips that depart daily from Cairns & Port Douglas, the reefs off Cape Tribulation, in comparison, remain mainly untouched. Some of the advantages of snorkelling and diving from Cape Tribulation include easy accessibility with the reef just 19km offshore, an undisturbed coastline, lower visitor numbers, pristine reefs and high water visibilty averaging 15-25 metres (50-80ft). There are a few different ways to explore the Great Barrier Reef from Cape Tribulation. Have a look at some of these unique adventures...
Horseriding

Horseriding makes for a very special way of not only seeing the beauty of the Daintree Rainforest, but also the sense of enjoyment derived from both the freedom of riding and feeling connected with the great outdoors. Options are availble to explore two unique environments with Cape Trib Horserides or Giddy Up Horseriding. Both tours explore different areas of the Daintree Rainforest.
Overnight Packages

The best way to truly appreciate the oldest rainforest in the world is to stay a night. If you're travelling on your own or don't want to hire a car, then take a fully guided organised tour. Your friendly tour guide will share all there is to know about the Daintree Rainforest including its surrounds. Itineraries have been designed to include the best and most interesting highlights of the region, to maximise your rainforest experience. There are also a number of adventure activities that you can also incorporate into your stay, including Jungle Surfing, Horseriding or an exciting Night Walk. Accommodation in the packages is varied, ranging from budget style dorm accommodation to a free-standing private cabin. Packages can be arranged for the whole family.
Rainforest

In the opinion of Sir David Attenborough, the Daintree Rainforest is:
'the most spectacular and diverse rainforest region on the planet!'
The Daintree Rainforest is the oldest, continuously surviving rainforest containing the greatest diversity of plants and animals found anywhere in Australia. Covering an expanse of more than 1,200 sq km, the landscape is diverse and the coastal scenery extremely rare; combining tropical rainforest, white sandy beaches and fringing reefs just offshore. This special area is the only place on earth where two heritage listed areas meet side by side - the reef and the rainforest. With magnificent scenery, mountain ranges, fast flowing streams and waterfalls, deep gorges and dense rainforest, it is a sight not to missed on your holiday itinerary. Take a look at our extensive collection of rainforest tours and activities.
Scenic

Exploring the rainforest doesn't have to be through the window of a vehicle or guided walking trails. There are many non-traditional ways to view the rainforest in the Daintree, which will give you a closer inspection of the wildlife, flora and fauna in the region, from the forest floor to the canopy above.
Sea Kayaking

Sea kayaking is a great opportunity to explore up close the tropical beaches, fringing reef, mangroves and marine wildlife. Enjoy spectacular views of the Daintree National Park as the rainforest clad mountains sweep down to the ocean. There is so much to discover out on the water but the most exciting is spotting marine wildlife. Every day is different with wildlife frequently spotted including sea turtles, schools of fish, sea eagles, dolphins, dugong, sting rays and the occasional whale passing during migration season (July and August).
Self Drive

Public transport is limited throughout the Daintree region, so we highly recommend hiring a car and self driving so you can have the freedom to explore the rainforest at your own pace. Most of the attractions and activities are well spread out between the Daintree River and Cape Trib Beach, as are dining options, so hiring a vehicle will provide you with greater flexibility to get the most from your stay. Most roads are sealed, so unless you are planning to go to Cooktown via the Bloomfield Track, you will not need a 4WD to visit the Daintree. Drive time from Cairns to Cape Triibulation is two and a half hours, and one and a half hours from Port Douglas. The journey to the Daintree is all part of this unique and special experience. The Cook Highway from Cairns to Mossman is one of the most beautiful coastal roads in Australia, with secluded palm fringed tropical beaches, hidden coves, rugged headlands, rich green sugar-cane fields and rainforest covered mountains...
Wildlife

A visit to the Daintree is a magical experience where you can view some of the most ancient, rare, primitive and endemic species in all thier natural glory. The Wet Tropics World Heritage Region contains Australia's greatest diversity of animals and plants within an area of just 0.26% of the continent. It is home to: 26% of Australia's frogs, 17% of it's reptiles, 58% of it's butterflies, 30% of marsupial species and 48% of it's birds, many of which are endemic to this eco system only. Most of the world's 19 primitive plant families are found in Daintree National Park and the surrounding area. Take a look at some of these exciting touring options where you can truly marvel at the significance of this outstanding World Heritage Region.